The increase in population benefits a country's economy so that it continues to run. Nonetheless, it doesn't come with no consequences. One of the biggest problems due to population growth is the increasing waste. This is experienced by most cities in the U.S., and Atlanta is no exception. Despite having excellent recycling equipment, junk and waste removal facilities, and Atlanta recycling center, the city faces a big challenge regarding illegal trash dumping.
Residents often complain because this trash triggers coyotes and rats. They are also worried that the junk will pollute the environment. To respond to this issue, the local government launched several recycling programs, like Multi-Family Recycling. Besides, a company called Live Thrive also initiated CHaRM (Center for Hard To Recycle Materials), an eco-friendly waste disposal option, one of the most significant Atlanta recycling services.
Moreover, CHaRM also supports sustainable living in Atlanta to achieve the Atlanta waste reduction goal. In addition to that, there are some of the BEST Atlanta recycling centers that can help overcome this problem.
But before that, let's get a quick tour of the history when the city starts recycling.
When Did Atlanta Start Recycling?
The history of the origins of eco-friendly initiatives in Atlanta, Georgia, to recycle junk has yet to be clearly known. However, we can trace how the state of Georgia started its recycling program. It was in the early 1900s that the government launched a sustainable waste management program that required residents to recycle.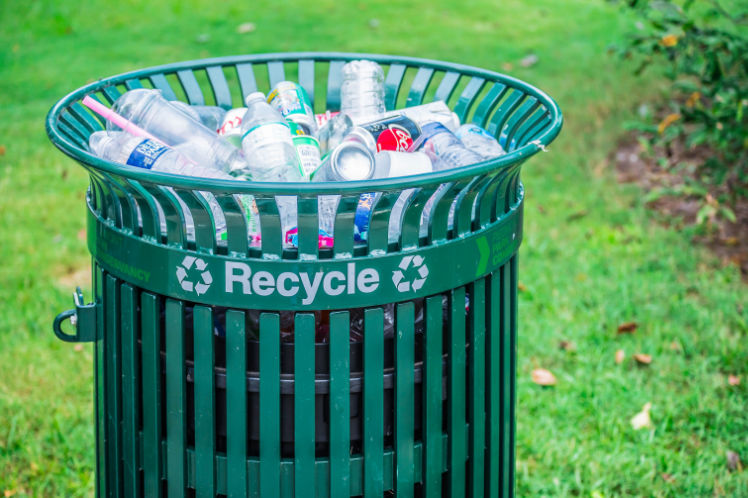 With this approach, Georgia managed to reduce around 25% of its municipal waste. Meanwhile, eco-friendly initiatives in Atlanta began to develop around the 2000s. Residents can separate their household waste into a blue cart they can book on the government website, www.atlantaga.gov.
Additionally, a non-profit company called Live Thrive launched an Atlanta-based green recycling center called CHaRM (Center for Hard To Recycle Materials) in 2015. This permanent drop-off at 1110 Hill Street SE accepts various recycled materials, including styrofoam.
Does Atlanta Have A Recycling Program?
To support sustainable waste management, Atlanta released a new recycling program called Multi-Family Recycling. This service requires property owners with six or more living units, such as townhouses and apartments, to provide recycling bins to collect the recyclables.
Moreover, the materials accepted by the bins, following recycling guidelines in Atlanta, including glass, aluminum cans, plastics, and newspapers. In addition, the size of the containers must be at least three gallons multiplied by the number of living units.
In addition, the city, in collaboration with a non-profit organization Live Thrive, also provides a green waste recycling center for hard-to-recycle items. Some of the facilities available at this zero waste center are plastic recycling, metal recycling, e-waste recycling, appliances, and hazardous material recycling. It also provides composting services by taking your compost to the recycling center.
Another program released by the Atlanta government is called Clean Streets in 2016. This green recycling approach aims to reduce the amount of cigarette butt waste in the streets as part of a zero-waste and eco-friendly initiative in Atlanta. This program is in collaboration with TerraCycle, an organization that focuses on promoting recycling solutions. Eventually, TerraCycle will handle the cigarette butt and donate $1 to the Keep America Beautiful Fund for every pound of the waste.
What Can Be Recycled In Atlanta?
Unlike most other cities, which have limitations on what items are acceptable to their recycling bins, Atlanta takes almost everything. However, it depends on what recycling approach you want to try. In addition, you must also follow recycling guidelines in Atlanta before dumping your recyclables into the bins.
For the curbside recycling service, residents can ditch their recyclables to the blue bins. Here are some items that are acceptable in the containers:
Bottles and jars
Aluminum and steel cans
Cartons
Cardboard
Newspaper
Magazines
Mix paper
Bottles and containers
Make sure all the listed items are empty and dry. Those with stains of food or liquid are NOT acceptable. Plastic bags are also prohibited in the bins. For the paper-based materials, you must flatten them, especially the cartons and cardboard. In addition, you must replace the caps of the bottles and containers before recycling.
Apart from curbside recycling, the city also has a Center for Hard-To-Recycle Materials (CHaRM) where you can dump bulky items and other stuff, including hazardous items, which blue bins can't take. Here is the list of materials you can bring to CHaRM:
Appliances
Bike
Chemicals
Compost
Cigarette Butts
Document Shredding
Donations/Textiles
Electronics (anything that has a plug!)
Food-Grade/Flat Glass
Mattresses
Metals
Musical Instruments
Paint
Paper/Books
Plastics/Film
Styrofoam
Tires
E-Waste/Hazardous Materials (motor oil, printers, TVS, weed killers, toxic cleaners, batteries, fluorescent light bulbs, flea collars, mothballs and more)
To use this green waste recycling service, you must book an appointment through livethrive.org.
How Do You Get Rid of Junk In Atlanta?
Suppose you are an Atlanta resident who needs to get rid of loaded junk. In that case, you must contact the Bulk Collections service provided by the local government. You can go to the website www.atlantaga.gov and fill out the online form.
Alternatively, residents may download the ATL Solid Waste mobile app on the Apple Play Store or Google Play. However, you can only dump 12 bags of bulky trash per year. You will be charged some fees if the amount exceeds the maximum limit.
Meanwhile, household waste is acceptable in 96-gallon green bins provided by Solid Waste Services. The crew will collect the disposable trash once a week, which the residents must place in the green cart by 7:00 AM on the scheduled collection day and remove by 9:00 AM sharp the day after. In addition, the container must be cleaned and odor-free.
As for garden waste, like yard trimmings, you must place them on a paper bag with yard trimming labels. You can also dump them in a container with a yard trimming label. The full collection for yard trimmings is 20 paper bags with a maximum weight of 35 pounds for each bag.
Atlanta Recycling Center
To support Atlanta's efforts to achieve the zero waste goal, there are many Atlanta recycling centers scattered throughout the city. They provide various kinds of facilities, including plastic recycling, metal recycling and even composting services. For that reason, we have sourced the web and compiled some of the BEST ones so you don't have to.
Let's have a look!
1. Ecycle Atlanta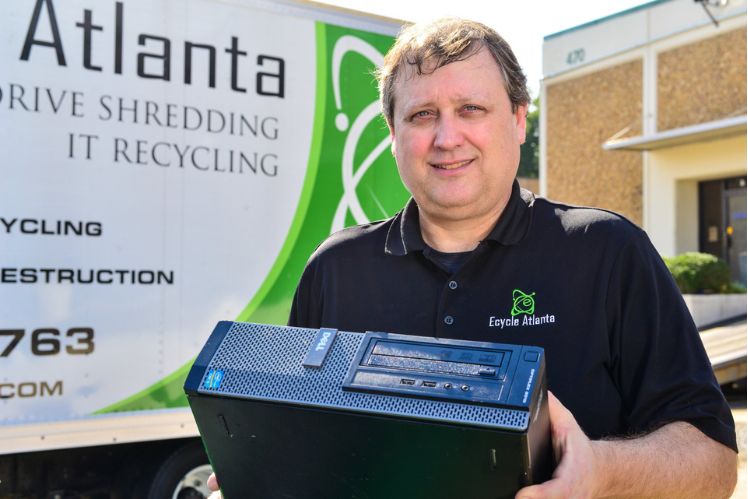 This Atlanta recycling center is a facility that provides electronic waste recycling. Ecycle Atlanta itself was founded by Jeff Shenning. However, it has yet to be discovered when the business started operating
On the website, Ecycle Atlanta emphasizes that their service aims to reduce e-waste in landfill by repurposing, recycling, and re-marketing the recyclables. Until now, the company has five team leaders and runs locally in the city of Atlanta.
Services
As its name suggests, the business offers electronic waste recycling as the highlight of their service. Nonetheless, they also add other services you can pick based on what you need, including:
Hard Drive Shredding. This service is excellent for commercial and companies that need immediate destruction service to protect their confidential data. And amazingly, this Hard Drive Shredding is free! The Ecycle Atlanta uses an industrial hard drive shredder to ensure all equipment is properly demolished.
Data Destruction. Data security is a major concern for everyone, including your company. Hence, Ecycle Atlanta provided a data destruction service to protect the privacy of their clients. The recycling center also offers secure HDD data destruction, removal of asset tags, and other potential identifiers. You will also bring a Certificate of Destruction to home once the process has completed.
Electronics Drop-Off. This is the primary service Ecycle Atlanta offers to the residents and companies. For residents, you can find the nearest recycling drop-off locations in Atlanta (see the address below!). Meanwhile, companies can rely on free onsite pickup service by booking an appointment on the website or calling the phone number. Regarding the acceptable electronic list, you can check on www.ecycleatlanta.com since it is impossible to include all in this section.
Address
470 Plaza Dr Suite B, College Park, GA 30349, United States.
Website
Phone
+1 678-324-9760
Hours
Sunday Closed
Monday 08:30 AM – 05:00 PM
Tuesday 08:30 AM – 05:00 PM
Wednesday 08:30 AM – 05:00 PM
Thursday 08:30 AM – 05:00 PM
Friday 08:30 AM – 05:00 PM
Saturday Closed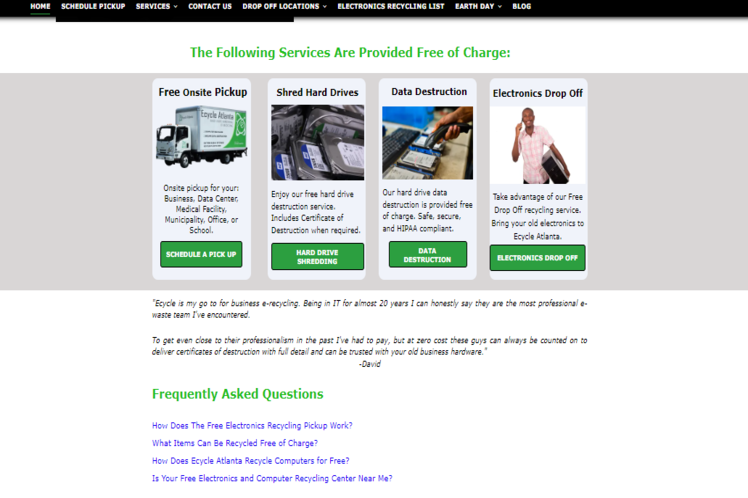 Rating by Google
5.0 of 5 Stars.
Users Review
Here are some customer summary about the Ecycle Atlanta service:
"We used Ecycle Atlanta to pick up electronics from our office and the experience was great. They were specific to begin with on what electronics were allowed, responded in a timely manner, and when the electronics got picked up it was pretty straightforward. Also the staff is friendly, I would recommend this to anyone and will use their services when needed again!." – C. Link
"These guys make it easy to do the right thing with your old electronics-RECYCLE!! Just drive up to the delivery door, ring the bell and they take care of it. Do the right thing and support these guys for doing the right thing-RECYCLING! Highly recommend E-Cycle!" – Oliver Self
"Marcus was very helpful. Drop off was quick and easy. Will make sure to be back for any electronic drop off needs." – Max Palacios
Our Reviews
No wonder Ecycle Atlanta gets a five star on Google reviews. They have a website with complete information about the company as well as the services.
Not only that, but they also have a free pickup service for companies interested in booking their services. And when we look at the list of acceptable electronic waste in this recycling facility, we can find almost everything! The only thing we suggest is to provide an average price list on the website.
Question and Answer
Question – "Can you recycle batteries here?"
Answer – "Yes, feel free to drop your batteries off for recycling from 9:00-4:00, Monday-Friday."
Question – "Do you accept televisions too, or just computers?"
Answer – "We typically do not take consumer electronics such as televisions. When we do, there is typically a fee involved depending on the type and size of the television."
2. Atlanta Recycle Computers, Electronics Recycling & Recycle Laptops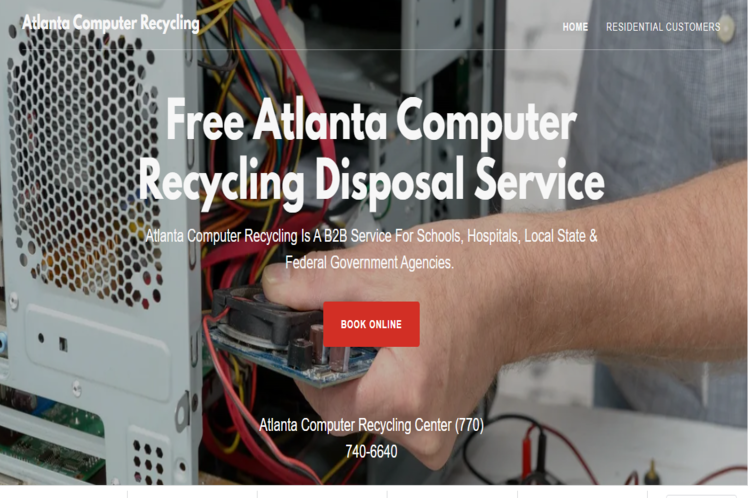 This Recycling Center services is a B2B recycling center that is available for businesses and companies. Hence, individual residents are not allowed to bring their recyclable junk here.
In addition to that, hospitals, local state, schools, and federal government agencies are also welcome to send their recyclable electronic waste to this facility. Unfortunately, we can't find any more information regarding the upbringing of this Atlanta recycling center.
Services
You can tell the company service by its name. Atlanta Computer Recycling services accept a wide range of electronic items and computer equipment free of charge. However, it only applies for business, company, and public services (schools and hospitals).
Here are the list of acceptable materials and items that this recycling facility can take:
Flat screen LCD computer monitors
Laptops
Desktop computers
Smartphones
Servers
Audio/Video Equipment
Tablets
Routers
Phones
IT Network Equipment
Telecom Equipment
Peripheral Devices
In addition to these items, Atlanta Computer Recycling also takes some of the chargeable electronics to recycle, including Business Customer Printers and Copiers. For the price list, you can check the details on their website we have listed below.
Address
100 Hartsfield Center Pkwy #500, Atlanta, GA 30354, United States.
Website
www.atlantacomputerrecycling.com
Phone
+1 770-740-6640
Hours
Sunday Closed
Monday 09:00 AM – 05:00 PM
Tuesday 09:00 AM – 05:00 PM
Wednesday 09:00 AM – 05:00 PM
Thursday 09:00 AM – 05:00 PM
Friday 09:00 AM – 05:00 PM
Saturday Closed (By appointment)
Rating by Google
5.0 of 5 Stars.
Users Review
Here are some customer summary about the Atlanta Recycle Computers service:
"Anyone wishing to recycle their old devices need go no further than this helpful website. You will have the assistance of a crew of men as you sift through your belongings." – Diego Guerrero
"This is a great resource for anyone looking to recycle old electronics. A group of guys will assist you in sorting through your stuff." – Andrew Barron
"I often visit the facility as someone who believes in the value of technology reuse. Quality American recycling centers." – Shane Dawson
Our Reviews
We love the fact that this recycling center provides a wide range of electronic items to recycle. They also provide very detailed information, including the price list, on the website. It is extremely helpful for the clients to learn about their services. And despite the fact that it is closed on Saturday, you can make an appointment to pick up or drop off your recyclables. Unfortunately, it is only available for business and company.
Question and Answer
Question – "Is drop off point available?"
Answer – "No."
3. Emory Recycling Center
It is interesting that the Emory Recycling Center is initiated by Emory University. And surprisingly, the drop-off facility is also available for the public, despite being located in the university area.
From what we know from Google reviews, some people leave their recyclables in this area since they don't have recycling bins in their neighborhood. The main goal of this recycling program is to deliver waste reduction education through converting university and healthcare waste.
Services
Emory Recycling Center provides drop-off service as well as Material Recovery Facility (MRF) for the community. The location of MRF itself is located at 868 Peavine Creek Drive, different from the main drop-off facility.
Residents in the surrounding neighborhood can dump their glass, paper, mix paper, cardboard, C&D waste, scrap metal, and aluminum in separate recycling bins with labels. For the cardboard, you must flatten them to provide more space. In addition, you can also collect food waste and animal bedding to throw in the composting bins.
Address
900 Peavine Creek Rd NE, Atlanta, GA 30307, United States.
Website
Phone
Not Available
Hours
Sunday Not Available
Monday Not Available
Tuesday Not Available
Wednesday Not Available
Thursday Not Available
Friday Not Available
Saturday Not Available
Rating by Google
5.0 of 5 Stars.
Users Review
Here are some customer summary about the Emory Recycling Center service:
"They do a good job keeping up with the items. I wish this location was more accessible, but I'm grateful that we have an opportunity to recycle in hopes of making the world more sustainable. Mornings tend to be the best time to drop off." – Jeff Hennore
"Super easy recycling. Recyclables are all separated in bins marked by easy to see signs." – Stephen Jones
"I love that this is an available resource to the community. My neighborhood does not offer recycling so I come here every week. There's very clear signage and it's never overflowing or dirty. I also love that you can recycle glass here!" – Rachel B.
Our Reviews
We can see from the reviews on Google that the community is satisfied and thankful for the recycling center, as it is free and available for the surrounding neighborhood. Emory Recycling Center also accepts various materials, even scrap metals, food waste, and animal bedding for composting.
However, it is unfortunate that there is no phone number and open hours information available on the website. It should be better to have, at least the open hours, to let people know when they can dump their recyclable materials in this facility.
Question and Answer
Question – "Do you buy scrap metal?"
Answer – "No, they don't."
Question – "Can you get a recycled box for reuse?"
Answer – "Yes, there are a lot of boxes with different sizes folded up."
4. The Center for Hard to Recycle Materials (CHaRM)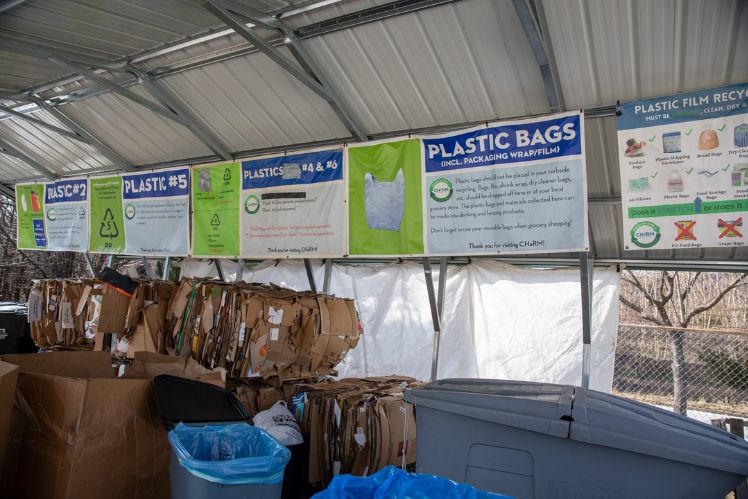 CHaRM, or Center for Hard-To-Recycle Materials, is one of Atlanta's most reliable recycling centers, managed by Live Thrive, a non-profit organization. It was first launched in 2015 by Peggy Ratcliffe, the Founder and Executive Director at Live Thrive.
Initially, the idea came when he was cleaning his parents' house. He then realized that many recyclable items are not acceptable in the blue bins but actually have values to divert. Until 2021, CHaRM has recycled and repurposed 4.8 million pounds of materials.
Services
The primary service CHaRM offers are drop-off facilities. Residents can drive to the 1110 Hill St SE by appointment which they can schedule in advance via livethrive.org. So, what items will CHaRM take? Check out the list below!
Styrofoam
Mixed Paper
Cardboard
Books
Musical Instruments
Bikes
Electronics
Cartons
Document Shredding
Paint
Chemicals
Miscellaneous
Mattresses
Compost
Cooking Oil
Tires
Donations
Textiles
Flat Glass
Food-Grade Glass
Appliances
Metals
Plastics (code #1, #2, #4, $5, #6 with stretchy, clean, dry, empty features)
With a long list of acceptable items, CHaRM won't charge residents with fees for most of the materials! However, businesses need to pay some per pound for recycling. For further information and book an appointment, you can check on www.livethrive.org.
Address
1110 Hill St SE, Atlanta, GA 30315, United States.
Website
Phone
+1 404-600-6386
Hours
Sunday Closed
Monday Closed
Tuesday 08:30 AM – 02:00 PM
Wednesday Closed
Thursday 08:30 AM – 02:00 PM
Friday Closed
Saturday 08:00 AM – 02:00 PM
Rating by Google
4.8 of 5 Stars.
Users Review
Here are some customer summary about the CHaRM service:
"Love this service to the community! It helps keep recyclables from going to the dumps!" – Michael Le
"So nice to have this place nearby, and so easy to sort and drop everything off." – Nicholas Bennett
"Great, much needed. We need a program to support community clean-up groups as well but $2.00 per tire after the first 2 tires is well worth the expense. Paying to clean up tires dumped on my block is paying for my mental health." – Philip Wu Jr.
Our Reviews
CHaRM has proven its main goal to divert more recyclables to reduce the garbage in landfills. Even cooler, they don't charge residents for most of the items they recycle in this facility. And even if they apply some fees, it is affordable, and the price list is listed on the website.
So, residents can check beforehand and estimate how much it will cost to recycle their junk. However, the open hours are limited to appointments and are only available three days a week.
Question and Answer
Question – "Does CHaRM take old nail polish still in the bottle? Do I need to get the polish out first? I emailed them directly but never received a response?"
Answer – "Yes we do accept nail polish and you should leave it in the original bottle. Sorry you did not receive a response in a timely manner. Thanks for recycling!"
Question – "Does CHaRM take ARC: Abbott Reclosable Container by Tetra Pak® , i.e., the cartons for Ensure and other nutrition drinks?"
Answer – "Yes, we do accept cartons."
5. Mattress Disposal Plus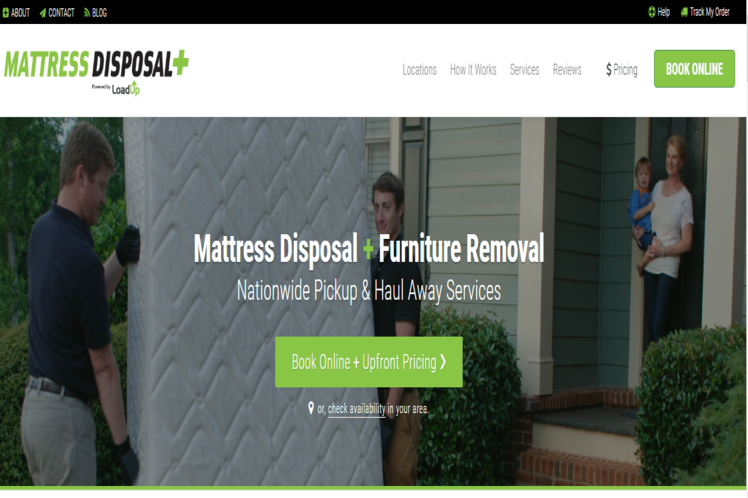 Unlike the others, Mattress Disposal Plus is here to haul your old box spring and mattress. Although it doesn't necessarily recycle, we decided to include this service because it is helpful for those who need junk removal of bulky furniture.
Even though the business began in Atlanta by Chris G., Mattress Disposal Plus is now available in 170 cities nationwide. Hence, you can easily book an appointment with this service.
Services
Just like its name, Mattress Disposal Plus is a convenient service for those who need to move or get rid of their old furniture. Nonetheless, Mattress Disposal Plus also provide additional services, including:
Mattress Disposal. The crews will remove your bulky mattress from your bedroom, offices, and even attics! You just need to call for an appointment or simply check on the website and book through an online form.
Box Springs Disposal. In addition to mattress disposal, this service provides box spring disposal, which is often an issue due to its large size. If your box springs are in good condition, they will transfer them to the donation center.
Furniture Disposal. If you find old and broken furniture but don't know what to do, you can book a disposal service with Mattress Disposal Plus. They will haul your furniture junk and get rid of them in the most environmentally friendly way. Or, in case your items of furniture are still valuable, they will donate them to the nearest donation center.
Address
300 Galleria Pkwy Suite #1870, Atlanta, GA 30339, United States.
Website
Phone
+1 877-708-8329
Hours
Sunday 08:00 AM – 08:00 PM
Monday 08:00 AM – 08:00 PM
Tuesday 08:00 AM – 08:00 PM
Wednesday 08:00 AM – 08:00 PM
Thursday 08:00 AM – 08:00 PM
Friday 08:00 AM – 08:00 PM
Saturday 08:00 AM – 08:00 PM
Rating by Google
4.5 of 5 Stars.
Users Review
Here are some customer summary about the Mattress Disposal Plus service:
"Excellent customer service!" – Gelson Da Silva
"Careful and efficient service. We were pleased." – Jerome Cartwright
"Napoleon was helpful, pleasant, professional and time efficient." – Brian Duffy
Our Reviews
This eco-friendly disposal service focuses on the removal of bulky items, such as mattresses, box springs, and furniture. We find their service useful because they provide a pick-up service that allows you to get rid of big stuff easily and quickly. And what makes us happy is that they are working with the donation center to transfer the valuable items to be used again.
In addition, the open hours are also flexible for those who have to work 9/5 on the weekdays.
Question and Answer
Question – "How much to dispose of a twin mattress and box spring?"
Answer – "Pricing is based on location. Simply visit our online booking system and enter your zip code to check pricing and availability in your local area. Next select the items you need removed and get an immediate upfront price. If you are comfortable with the price, simply continue booking to schedule your pickup date and time."
6. Browns Mill Recycling
As you can see from its name, Browns Mill Recycling is an Atlanta recycling center focusing on metal recycling. It is a locally-owned company that serves individuals, commercials, businesses, and companies to turn their scrap metals into fast money.
The company also claims that you will get the money from recycling in about 20 minutes, just like its motto: Get In, Get Out, Get Paid. However, we can't find details about the company's history, like the founder and owner.
Services
Unfortunately, there is no specific information regarding their services. However, we can find some clues about it on the website. Here are the ferrous and non-ferrous items you can bring to this Atlanta-based recycling facility:
Cars
Coppers
Washers
Conductors
Dryers
Radiators
They also mention tow customer service, which includes removing batteries and emptying fuel lines. Moreover, Browns Mill Recycling also provides pick-up service for moving and relocation where usually a bunch of scrap metals find no place to ditch.
Address
3760 Browns Mill Rd SE, Atlanta, GA 30354, United States.
Website
Phone
+1 404-840-8872
Hours
Sunday Closed
Monday 08:00 AM – 04:00 PM
Tuesday 08:00 AM – 04:00 PM
Wednesday 08:00 AM – 04:00 PM
Thursday 08:00 AM – 04:00 PM
Friday 08:00 AM – 04:00 PM
Saturday 08:00 AM – 12:00 PM
Rating by Google
4.4 of 5 Stars.
Users Review
Here are some customer summary about the Browns Mill Recycling service:
"Very friendly and professional staff. Easy comprehensive system." – LaPorsha Eley
"Fast Money." – Joe Carroll
"Gets a little congested sometimes but the help is great!" – Charles Singleton
Our Reviews
Despite having a website, it is a bit sad that the information about the services are not available in detail. Fortunately, you can make a call to know what kind of services match your needs. In addition, it is a plus that the company opens on Saturday where you can send your scrap metals easily.
Moreover, customers also mentioned on Google reviews that the payment is fast, just like what the business claimed. The customer services are also great, which is another benefit to invite more customers to come.
Question and Answer
Question – "Will you be open on Columbus day?"
Answer – "Yes sir. At 6:30 to 7:00 PM."
7. Metro Green Recycling
The business was founded by Mitchell, which previously handled John D. Stephens Inc. construction company. The company was involved in constructing Hartsfield-Jackson Atlanta International Airport to supply embankment by renting a piece of land. After completion of construction, the land is converted into a landfill to handle the remnants of construction materials.
Ultimately, Mitchell and his father look for a sustainable way to handle the junk by recycling. In 2010, the first facility opened for construction, zoning, and permitting purposes. Then, it opened to the public in 2012. Currently, Metro Green Recycling is the primary Atlanta construction and demolition waste recycling facility.
Services
Given the fact about the business' history, we have clues about the services. Metro Green Recycling focuses on processing debris from construction, demolition, renovation and repairing of structures, houses, or other buildings. Below are the acceptable materials you can bring to Metro Green Recycling:
Concrete
Rock
Cardboard
Wood
Asphalt Shingle
Drywall
Metal
Carpet
Brick
Roofing Shingles
Shot Rock
Plastics
Acoustical Ceiling Tile
Other Construction Debris
However, you better check on the website for more details as each facility has a different list of acceptable items they can recycle.
Address
4351 Pleasantdale Rd, Atlanta, GA, 30340, United States.
2490 Marietta Rd NW, Atlanta, GA 30318, United States.
Website
Phone
+1 770-326-6000
+1 404-792-8300
Hours
Sunday Closed
Monday 07:00 AM – 05:00 PM
Tuesday 07:00 AM – 05:00 PM
Wednesday 07:00 AM – 05:00 PM
Thursday 07:00 AM – 05:00 PM
Friday 07:00 AM – 04:00 PM
Saturday Closed
Rating by Google
4.3 of 5 Stars.
Users Review
Here are some customer summary about the Metro Green Recycling service:
"This location is for recycling concrete and shot rock." – Neal Cantrell
"Cheap way to get rid of concrete." – Steve Chester
"Great place, good customer service." – Captinreid Reid
Our Reviews
In our opinion, Metro Green Recycling has provided thorough information regarding their services on the website. It includes accepted items, non-accepted items, the location, and contacts. You can also check on some recycled products that are available to buy on their website.
Nonetheless, there's no price list of recycling or payment the customers bring home when they recycle their construction debris here. Also, some complain about the facility not being aware of the surrounding environment, which contrasts their principal and value.
Question and Answer
Question – "Can I dump asphalt here?"
Answer – "No, only concrete at Metro Green II."
Question – "Can you dump concrete?"
Answer – "Yes. They accept concrete, but try to keep them as clean as possible."
8. SA Recycling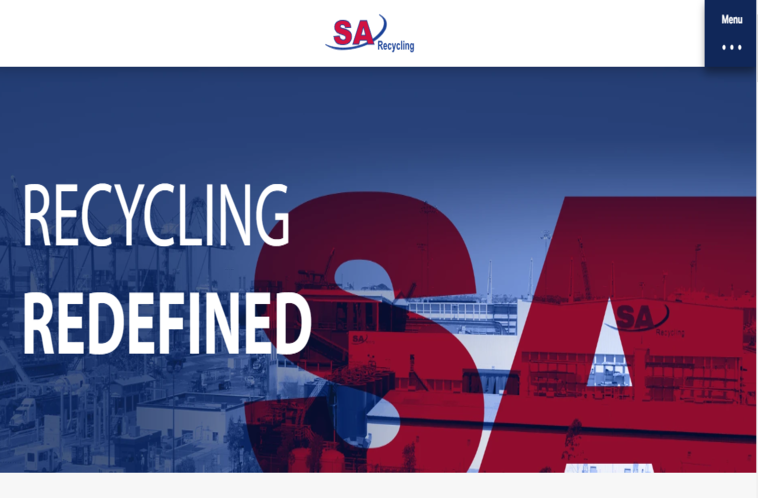 Are you familiar with SA Recycling? This recycling business is indeed popular across the country, operating over 125 recycling facilities in Alabama, Arizona, Arkansas, California, Florida, Georgia, Illinois, Kentucky, Mississippi, Missouri, Nevada, Ohio, Pennsylvania, Tennessee, and Texas.
The business was first founded by the late George Adams Sr. in 1973 in Anaheim, California. Now, his son, George Adams Jr., is taking over the successful company to successfully have many branches in the United States.
Services
Depending on the state they operate, SA Recycling offers some of their top services for their loyal customers. Some of them are:
Manufacturing Scrap Services: The crews will haul scrap metals from your defective production parts, including metal drums, turnings, shearings, steel, copper, brass, aluminum, and more.
Appliance Recycling: SA Recycling will handle your broken or old appliances in the most eco-friendly way with affordable prices. They will also remove CFC which may potentially contaminate our environment.
Automobile Recycling: The Atlanta recycling center provides dismantle operations for your automobiles, which includes crushing, roll-off boxes to move smaller parts, and clean-ups.
Certified Destruction: It is beneficial for companies which require to destroy broken products, recalled products, or proprietary equipment.
Demolition Scrap: This one is an on-site service that will help contractors to accommodate stuff for their projects. It also provides containers for non-ferrous materials.
Green Waste: SA Recycling will collect green yard trimmings and turn them into high quality compost to enhance the soil nutrients.
Address
Atlanta – 1024 Sampler Way, Atlanta, GA 30344, United States.
300600 and nearby areas – 598 Wells St SW, Atlanta, GA 30312, United States.
Website
Phone
+1 404-753-6063 (Atlanta)
+1 404-525-1464 (30060 and nearby areas)
Hours
Sunday Closed
Monday 08:00 AM – 05:00 PM
Tuesday 08:00 AM – 05:00 PM
Wednesday 08:00 AM – 05:00 PM
Thursday 08:00 AM – 05:00 PM
Friday 08:00 AM – 05:00 PM
Saturday Closed
Rating by Google
4.1 of 5 Stars.
Users Review
Here are some customer summary about the SA Recycling service:
"Nice people" – Rodney Reagan
"Very professional, nice people. Our company just delivered a new Sennebogen scrap handler. I am glad to be able to support them from the company I work for." – T. Hogan
Our Reviews
As usual, SA Recycling Provide a variety of services for customers to meet their needs. We love that they also take green waste, like yard trimmings, and process them into compost, which is uncommon in other recycling centers. Moreover, their website provides pretty much everything about the services.
Nonetheless, a customer mentioned that the recycling center doesn't give a reasonable payment for the recyclables they brought to the facility. Hence, we encourage you to contact the recycling center to learn more about the pricing before driving to the area.
Question and Answer
Question – "Do you take aluminum cans?"
Answer – "Yes, we do accept aluminum cans for recycling."
Question – "Do you take old non-working appliances?"
Answer – "Yes, we do accept old non-working appliances for recycling purposes."
9. Sonoco Recycling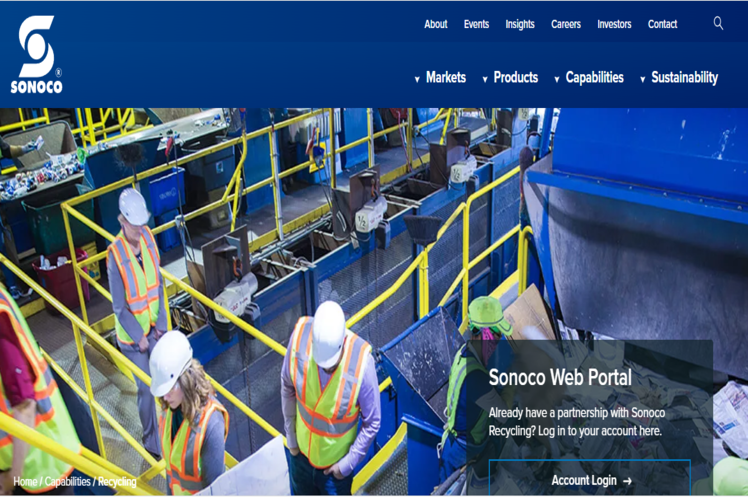 When you click the website, you may wonder whether Sonoco Recycling is a recycling center or a packaging materials production company. In fact, Sonoco Recycling was initiated by the company in an effort to achieve a sustainable goal.
Today, Sonoco Recycling has been operating worldwide, having over 40 recycling facilities. They claim to have helped as many as 15,000 retailers overcome their waste problems, diverting waste from landfills, and reduce carbon prints.
Services
Knowing they have more than 40 recycling centers worldwide, it's no wonder that they provide top-notch services for their customers. One of the most popular for business owners is Recycling for Retail and Commercial Businesses. Sonoco Recycling will help to handle recyclables, remove junk, and destroy the products and data with safe security.
Furthermore, they also provide Recycling for Manufacturers & Industrial Businesses. The crews will assess materials and processes, manage trash and material removal, and help your company achieve sustainability. In addition, the recyclables will be processed into new materials with great value. Lastly, Sonoco Recycling collaborates with 150 cities to handle municipal waste throughout the states through material recovery facilities.
Address
54 McDonough Blvd SE, Atlanta, GA 30315, United States.
Website
Phone
+1 404-522-9121
Hours
Sunday Closed
Monday 07:00 AM – 03:00 PM
Tuesday 07:00 AM – 03:00 PM
Wednesday 07:00 AM – 03:00 PM
Thursday 07:00 AM – 03:00 PM
Friday 07:00 AM – 03:00 PM
Saturday Closed
Rating by Google
3.8 of 5 Stars.
Users Review
Here are some customer summary about the Sonoco Recycling service:
"I've had nothing but good experiences at this place. Kenny and the other guys are always nice and help in any way they can. We are small potatoes to this organization and the yard guys always bend over backwards to get us in and out. The people in the office have been helpful every time we come. Keep it up!" – Chris Anderson
"Wasn't bad. Easy in and out. Just messy could use some cleaning up. And the poor girl in the office had some ac. Otherwise not bad." – R.S. Hammer Trucking LLC.
"Nice people to deal with. Little tight, not much room. Busy place. Overall not bad!" – Dan DeWitt
Our Reviews
Sonoco Recycling provides a fairly complete facility to handle waste disposal and recycling. Interestingly, they also collaborate with the government to reduce municipal waste. Unfortunately, their individual service needs improvement, especially regarding the waiting time.
A customer wrote on Google reviews, mentioning that she needed to wait 6 hours to recycle. Besides, the area is pretty tight, so the truck's movement is limited.
Question and Answer
Question – "If I bring my water bottles here, will I get paid for it?"
Answer – "Not sure, but they do take plastics."
Question – "Do they pay for recycling?"
Answer – "Yes! Cardboard only."
10. Schnitzer Southeast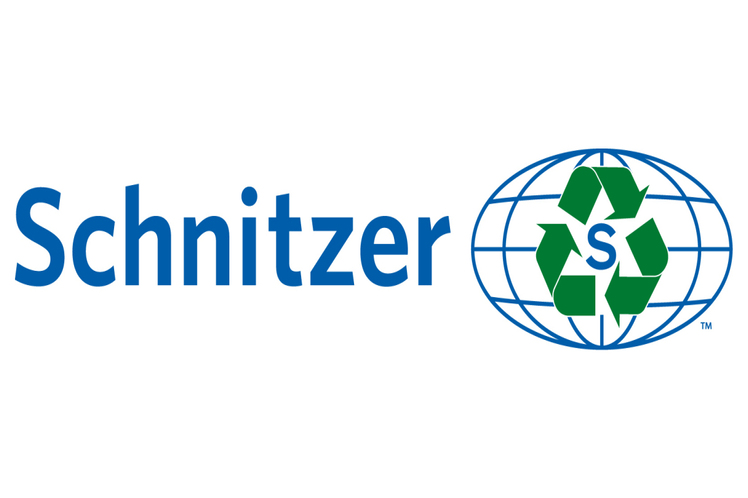 This one is perhaps the oldest recycling company we have discussed so far. Schnitzer was built in 1906 to handle ferrous and non-ferrous scrap metals in Atlanta.
They also process recyclable metals into valuable products, such as wire rods, coiled bars, and merchant bars, which they will later sell to the U.S. and Canada. To date, Schnitzer Southeast has approximately 99 recycling facilities across the U.S., Hawaii, and Puerto Rico.
Services
As one of the leading global companies to collect, process, and sell steels, Schnitzer Southeast provides metal recycling services in Atlanta. The detail services include:
Metal Recycling. Handling and processing your scrap metals from vehicles, rail cars, industrial machinery, manufacturing scrap, home appliance, construction and demolition materials. The company will later turn those items into new products.
Auto Recycling. Supply autobodies from your automobiles to the company's metal recycling facilities. In addition, they will sell used auto parts from old vehicles to wholesale customers and retail.
Address
1450 Blashfield St SE, Atlanta, GA 30315, United States.
Website
Phone
+1 404-622-1086
Hours
Sunday Closed
Monday 08:00 AM – 04:30 PM
Tuesday 08:00 AM – 04:30 PM
Wednesday 08:00 AM – 04:30 PM
Thursday 08:00 AM – 04:30 PM
Friday 08:00 AM – 04:00 PM
Saturday 08:00 AM – 12:00 PM
Rating by Google
3.7 of 5 Stars.
Users Review
Here are some customer summary about the Schnitzer Southeast service:
"Excellent service." – Ivan Torres
"Easy to get in and out. Helpful staff." – Stephen Fortner
"Quick service and helpful employees" – Chris Howard
Our Reviews
This recycling center will benefit construction companies to handle their scrap metals. Those who have end-of-life vehicles may also find Schnitzer Southeast helpful to get rid of their metals. Nonetheless, some customers complain about the loading time which is taking too long.
In addition, others mentioned that they get paid lower than before. So, we recommend you to contact the company to get the pricing or quoting as such information is not available on the website.
Question and Answer
Question – "How much for copper?"
Answer – "It varies daily. So, it's best to call for a quote or pricing."
Question – "Do you buy silver solder?"
Answer – "If it's recyclable, they buy it."
---
Latest Posts:
---
Final Thoughts
The Atlanta recycling center plays a vital role in reducing waste production in landfills. It is also nice to know that the government has recycling programs that support the residents to recycle their junk. However, you must know the recycling guidelines before dumping your trash into the blue bins.
For example, ensure all the recyclables are dry and clean with no liquid or stains to make the sorting process easier. To help the crew, you must also flatten all the cardboard or carton before sending them off to recycling facilities or drop-off locations to provide more room for other recyclables.
FAQ (Frequently Asked Questions)
Does Atlanta actually recycle glass?
The City of Atlanta Georgia allows you to recycle items, including glasses. Its residents can drop the materials in the nearest recycling center or ditch them in the blue recycling bins in Atlanta. With glass, you can also recycle materials like plastics, metal, and paper, as they belong to the same recycling bin. But ensure all those recycle items are clean, loose, and dry before ditching them in the recycling bins in Atlanta Georgia.
What is the recycling rate in Atlanta?
Besides having different recycling bins, the city of Atlanta also has waste reduction strategies. Some of the featured recycling programs in Atlanta are clean street and multi-family recycling. The goal of the clean street as one of the new recycling programs in Atlanta is to reduce the number of street cigarette butts.
In addition, this waste management approach in Atlanta also belongs to the city's zero waste solutions, in collaboration w/ith the Atlanta Downtown Improvement District (ADID) and TerraCycle. Furthermore, multi-family recycling requires that those living or the owners of multi-family dwellings must provide eco-friendly waste disposal containers to collect recyclable materials and support waste management in Atlanta.
Given these amazing Atlanta waste reduction strategies, it's no wonder that the waste recycling rates in Atlanta reach 12,000 tons or 12.5% annually.
Where can you dump large items in Atlanta?
Bulky items belong to hard-to-recycle materials, considering the large sizes. Luckily, a solid waste recycling service (SWS) is available in Atlanta. In fact, the recycling facility is handled by the local government as one of the upcycling initiatives toward sustainable living in Atlanta.
Residents can ditch up to 12 bags of bulky materials per year at the Atlanta-based recycling center. However, scheduling an appointment is a must. You can contact the recycling facility through www.atlantaga.gov and fill out an online form to get the big junk and waste removal service or with ATL31 by calling (404) 546-0311.
Does Atlanta recycle cardboard?
As one of the zero-waste solutions, you can recycle cardboard in Atlanta. You can simply ditch the materials into the blue bins. However, if you have a large size of corrugated cardboard, they are hard-to-recycle materials. Hence, you must go to the nearest Atlanta recycling facilities to get the waste handling service properly for bulky items.
Among recycling drop-off locations in Atlanta, we recommend driving to the CHARM (Center for Hard To Recycle Materials) facility located at 1110 Hill Street SE, Atlanta, Georgia. This permanent drop-off is one of the Atlanta recycling facilities you can rely on to dump your large recyclables.
Is Styrofoam recyclable in Atlanta?
Styrofoam recycling is now available in Atlanta recycling services. These are the most anticipated upcycling initiatives because Styrofoam is usually not recyclable and ends up in landfill.
Luckily, through CHARM (Center for Hard To Recycle Materials), Atlanta handles styrofoam using recycling equipment called a giant styrofoam compactor. After that, the results of this recycled styrofoam will be sold to manufacturers of roof insulation. In 2021, CHARM managed to perform styrofoam waste handling up to 32 tons.