Tires are a ubiquitous part of modern life, but they can also be a source of pollution and waste. According to the U.S. Environmental Protection Agency, over 290 million tires are discarded each year, taking up valuable space in landfills and posing a fire hazard. However, there are many ways to recycle tires and give them a new purpose, while also promoting a sustainable lifestyle. From repurposing old tires as planters to creating innovative new products, the possibilities are endless. In this article, we will explore some of the most creative and practical recycle tires ideas, and incorporating them into your daily life. Whether you're a homeowner, gardener, or DIY enthusiast, there's something here for everyone.
So let's dive in and discover how we can give old tires a second chance and make a positive impact on the environment.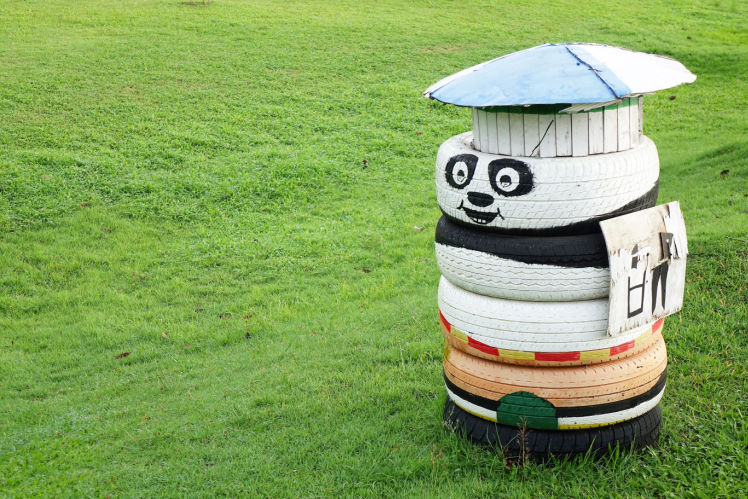 How Can Tires Be Recycled?
One of the most common ways to recycle tires is through a process called "tire-derived fuel" (TDF). TDF involves shredding tires into small pieces and using them as a fuel source in industrial boilers and cement kilns. This not only reduces the amount of tires in landfills, but it also provides a cost-effective and efficient alternative to traditional fossil fuels.
Another popular method of tire recycling is the creation of "tire-derived aggregate" or TDA. This TDA is made by shredding tires into small pieces and using them as a lightweight fill material in construction projects. TDA can be used as a substitute for gravel or stone in road construction, retaining walls, and other projects.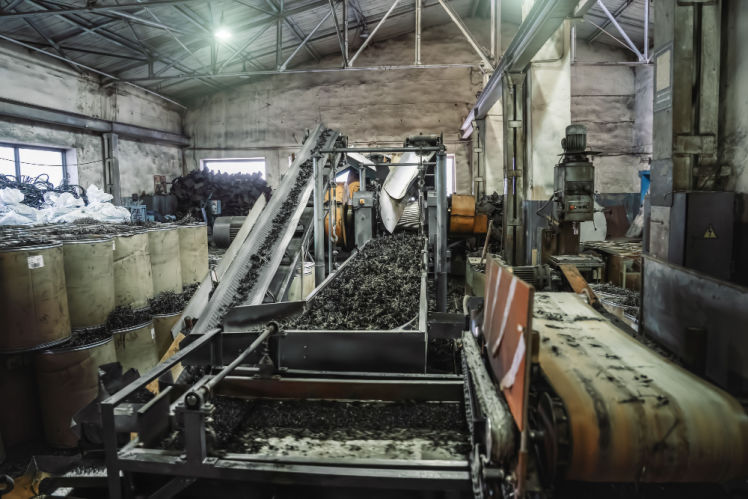 Recycling tires can also be used to create new products, such as playground surfaces, flooring, and landscaping materials. Tires can be shredded and used as a base for rubberized asphalt, which is used in many road construction projects. Crumb rubber, which is made by grinding tires into small particles, can be used as a soft surface for playgrounds and sports fields, as well as in products such as rubber mulch, mats, and flooring.
Can Old Rubber Tires Be Recycled?
Old and worn out tires can take up valuable space in landfills and can even be a fire hazard. Fortunately, recycling old rubber tires is possible and can have a significant impact on the environment.
The recycling process for rubber tires involves grinding them down into smaller pieces, known as crumb rubber. This crumb rubber can then be used in a variety of different applications, such as playground surfaces, sports fields, and even as a component in new tires. The recycling process not only reduces the amount of waste in landfills but also reduces the need to extract new rubber from trees.
Another way that tires can be recycled is by using them as fuel. Tires are made of hydrocarbons, which are similar to the hydrocarbons found in oil and natural gas. When tires are burned, they release heat energy, which can be used to generate electricity. This process is known as Tire-Derived Fuel (TDF) and is commonly used in cement kilns, paper mills, and power plants.
Does Recycling Tires Hurt The Environment?
Recycling tires generally has a positive impact on the environment, as it reduces the amount of tires in landfills, conserves natural resources, and reduces the need to extract raw materials. Additionally, recycling tires can also reduce greenhouse gas emissions and help to combat climate change.
However, there are some potential negative impacts to consider. One is the transportation and processing of tires to recycling facilities. This can produce emissions and contribute to air pollution. Additionally, if not done properly, the recycling process itself can also produce pollution and negative environmental impacts.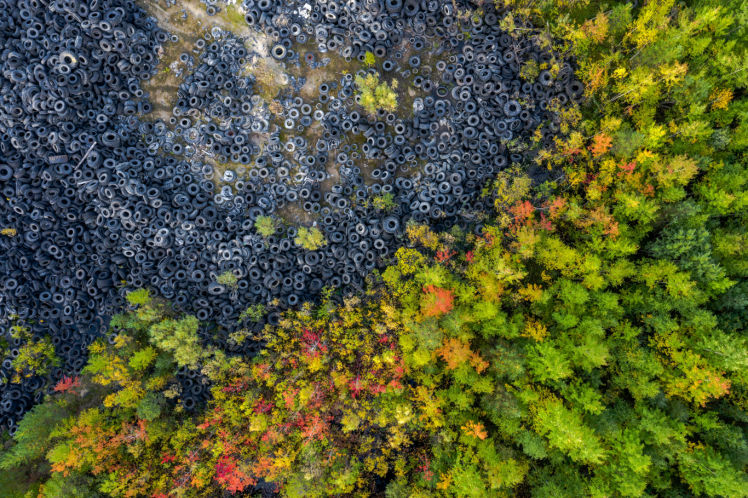 Another potential negative impact is the release of toxic chemicals during the recycling process. Tires contain various chemicals and materials that can be harmful to the environment and human health if not handled properly. This is particularly true when tires are burned for fuel, as this can release pollutants into the air. However, this can be minimized by using proper equipment and techniques, and implementing regulations to ensure the safe disposal and recycling of tires.
How To Make Money from Old Tires?
Old tires can be a source of income if you know how to recycle them. There are several ways to make money from reuse old tires, including:
1. Selling to a Tire Recycling Facility
Many tire recycling facilities will pay for used tires, which they can then process and recycle into new products. You can contact local recycling facilities to inquire about their prices and requirements for accepting used tires.
2. Starting a Tire Recycling Business
If you have the resources and knowledge, starting your own tire recycling business can be a profitable venture. You can collect and process tires, then sell them to other businesses for use in various applications such as construction, fuel, or consumer goods.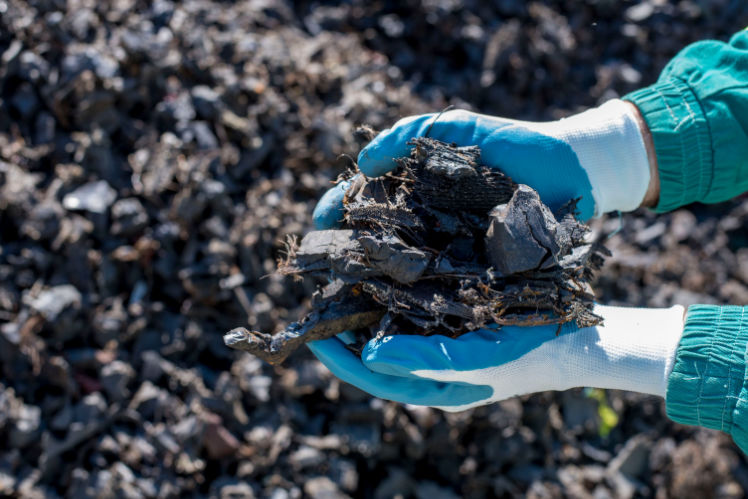 3. Creating and Selling Handmade Products
You can also create and sell handmade products from DIY old tire crafts, such as planters and furniture. This is called upcycling tires or creative reuse. Besides, it can be a creative and profitable way to give old materials a new life.
Recycle Tires Ideas for Home
Tires are an essential part of our daily lives, but they also pose a significant environmental problem when they reach the end of their useful life. So, discover the many ways that we can repurpose old tires in our homes and yards in the following points.
1. DIY Recycled Tire Ottoman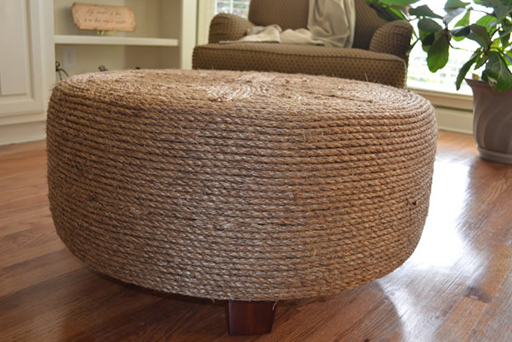 Create a lovely ottoman to give your deck or backyard a more fashionable finish. Recycled tires and leftover craft components can be used to create this DIY tire furniture in a very cost-effective and time-saving manner. Use a tire, burlap thread, hot glue, scissors, and a drill to put holes in it. Use strong glue to tighten up the twine if you don't want to drill a hole in the tire. You will undoubtedly adore this outdoor ottoman old tires decoration in a rustic and bohemian style.
2. Intricate Tire Lamps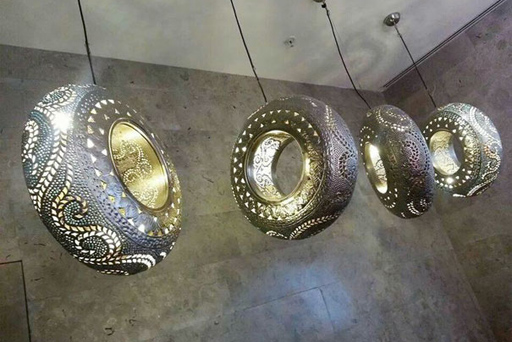 Did you know that you can also make wonderful tire lamps to decorate your house? To make intricate tire lamps, you will need a tire, drill bits of various sizes, utility knife, spray paint or other type of paint, and light kit. Use the drill and various sized drill bits to create intricate designs or patterns in the tire. After that, you can set up the light kit to the tire. Your awesome tire lamp is ready! It can be a creative tire idea for home.
3. DIY Tire Coffee Table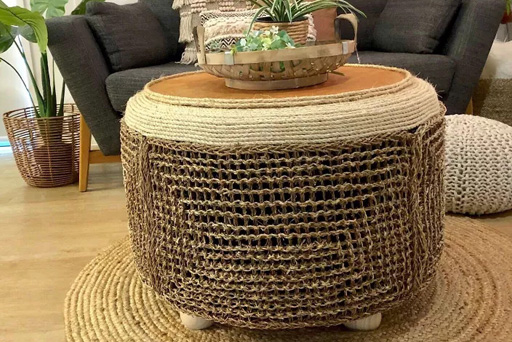 With the recycled tire, you may affordably update your living room or porch with a new rustic coffee table. Yes, you can create a useful coffee table with this DIY project with old tires. This table should ideally be portable and light enough to move quickly to any location. You'll need a tire, sisal rope, plywood if you want to use the table outside, wooden legs, screws, a jigsaw, a strong glue, and a power drill to build this table.
4. Spill Proof Dog Bowl Using Old Tire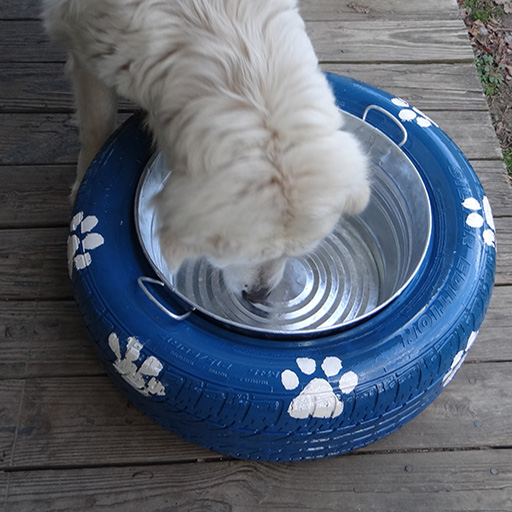 This tire dog dish is perfect for both indoor and outdoor use if you're looking for some original and attractive ideas to build dog food bowls yourself. Start by selecting a tire that is that specific size. The best part is that even when placed indoors, this dog bowl won't have a gross appearance. Recycled tires, food bowls, plastic buckets, exterior paint of your choice, paintbrushes, and a scrap or sharp knife are the materials and supplies required to build a dog dish.
5. Dog Bed from Recycled Tire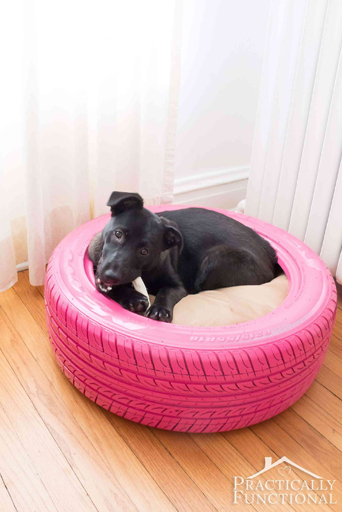 Use a recycled tire to create a remarkably cozy and cheap dog bed for your new puppy at home. Fortunately, this bed can be easily made in a few hours with simple crafting materials. The entire set of materials required to build this oh-so-comfy bed is composed of a recycled tire, upholstery, paintbrushes, and any exterior paint of your choice. You can avoid wasting money on conventional dog beds in this way.
6. Tire Seats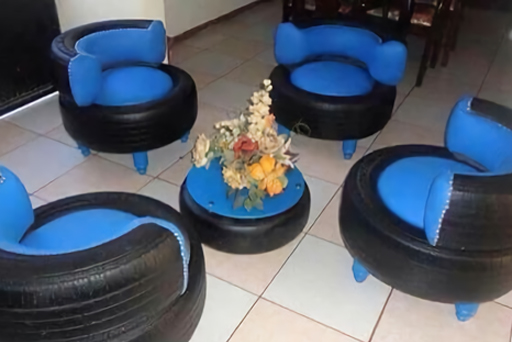 Are you looking for a cozy sofa or chair for your patio at home? If so, this tire sofa would be the best choice available. If you already have a tire in your workshop or thrift store collection, this sofa will cost you nothing. Simply paint the tire your desired color, then add an upholstery cushion. Your cute seats are ready for both indoor and outdoor purposes!
7. Toy Shelves from a Used Tire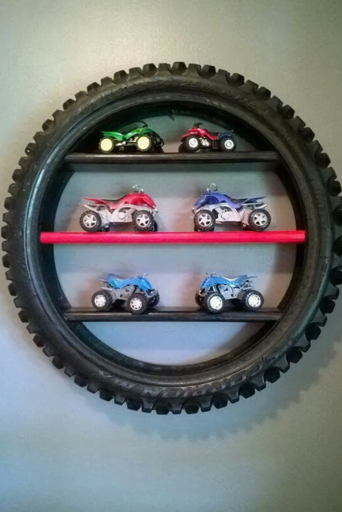 Create this fantastic tire shelf for toys to teach your children to be more disciplined and ordered even in their play places. This shelf may be easily constructed with a repurposed tire and some plywood sheeting. To finish or put together this tire play shelf, you can also use your preferred outside paint spray, wood screws, nuts, bolts, a screwdriver, and a power drill. Once you install this rack in their room, kids will be inspired to arrange all of their toys sensibly on this appealing tire shelf.
8. Tire Mirror Frame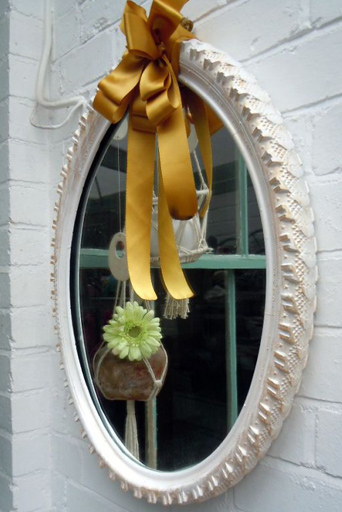 A tire has a unique pattern that can be a charming mirror frame in your home. Therefore, you can also utilize old tires to make a mirror frame. Use the saw or utility knife to cut the tire into the desired shape for the frame. You can also use various sized drill bits to create intricate designs or patterns in the tire. Remember to paint the tire with spray paint or another type of paint and allow it to dry completely.
9. Tire Flower Wreath Planter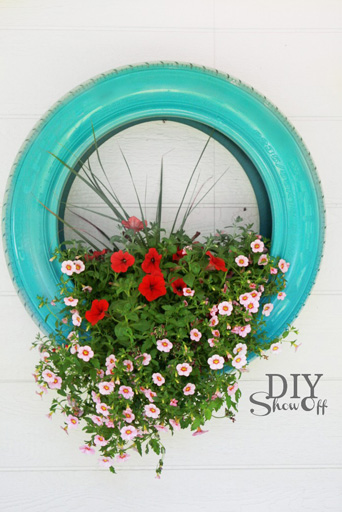 Depending on your needs, add this stunning tire flower planter indoors or outdoors. Ideally, you could also hang this planter from your front door wall as a wreath. Adding this planter to your front door will look fantastic, especially in the spring. You will need a recycled tire, tire spray paint, gardening soil, vibrant flowers, and a hook for hanging this planter to construct this gorgeous planter.
Recycle Tires Ideas for Garden
Did you know that you can add colors and charm to your garden from recycled tires? Let's take a look at the following points for more recycle tires ideas for a garden to adorn your outdoor space!
10. DIY Garden Tire Planter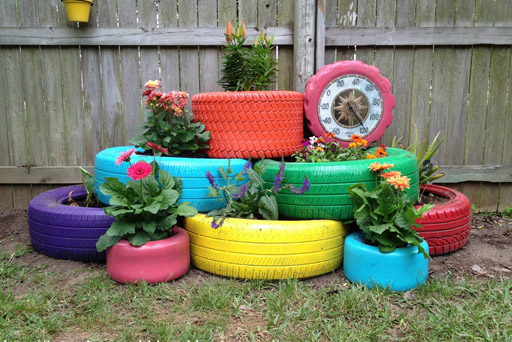 Do you enjoy growing your favorite flowers or plants in your backyard garden? If so, this recycled tire planter is a great option for you. You'll need an upcycled tire, burlap rope, a hot glue gun, scissors, and dirt to build this planter. In theory, even if you just have a tiny area for gardening, you can still grow flowers on these planters. The best part is that once you have put these tire planters to your garden, you won't need very much backyard decor!
11. Mushroom Garden Stools Using Tire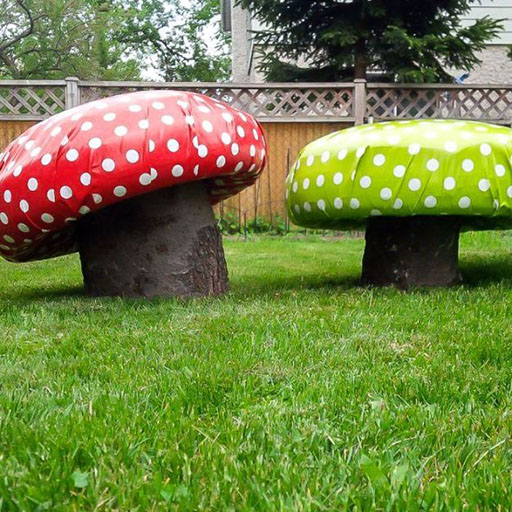 These outdoor furniture will be a hit with your kids when they see them in their backyard and may sit on them with their pals. Now, you can use a craft plan to add these incredibly unique benches to your outdoor space. To finish these incredibly stunning mushroom stools, you will also need a concrete mixture for the base of the mushroom, a recycled tire, craft paints, paintbrushes, upholstery material, trim nails, and a hammer. It makes sense that mushroom stools would suffice to round off your garden's interior design.
12. Tire Garden Stairs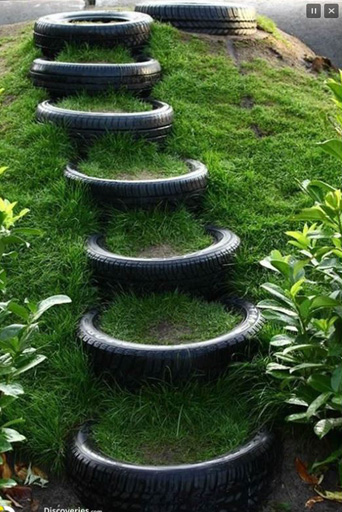 Tire garden stairs are an eco-friendly way to create a functional and unique addition to your garden. Stack the tires on top of each other, starting with the largest tire at the bottom and working your way up to the smallest tire at the top. Secure the tires together by screwing them together. You can fill the tires with gravel or crushed stone to give them stability. The tire stairs provide a sturdy and durable structure for climbing plants, and it can also be used as a way to add some personality to your outdoor space.
13. DIY Tire Tower for Backyard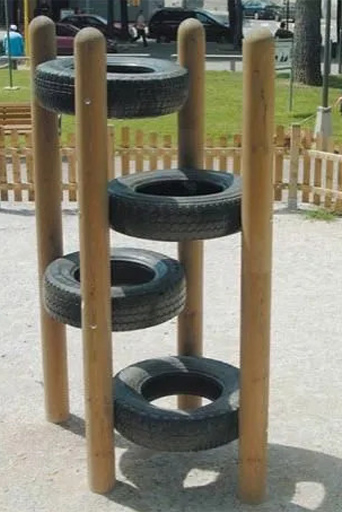 Create a little playground with tires to delight your kids in the backyard! With this tire tower, you may encourage your children to be more creative and active. Additionally, you may construct this tower using common woodworking materials, lumber, used tires, and hardware for woodworking. This tower can be built yourself and placed in your backyard or home garden for your children. This DIY project may appear difficult, but with the right patience and care, it will be a rewarding experience.
14. Recycled Tire Hanging Planters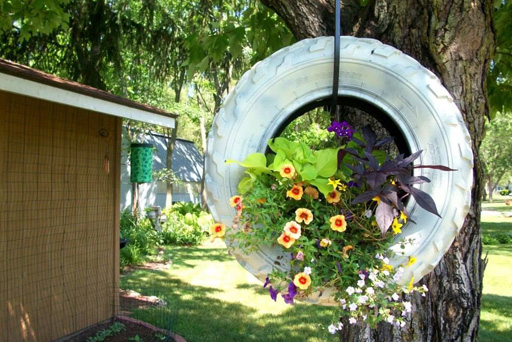 To quickly and affordably create a hanging planter for your outdoor or indoor garden, use old car tires. This planter doesn't require a lot of time or work to make. Thread the rope or twine through the holes and tie it securely, this will be the hanger for the planter. To give the tire a more fashionable appearance, you may also paint it in appealing colors. Ideally, if you have old tires in your workshop, you can make more than one hanging planter using the same technique. The hanging feature also provides a different perspective to your garden and makes it more striking.
15. DIY Tire Rocker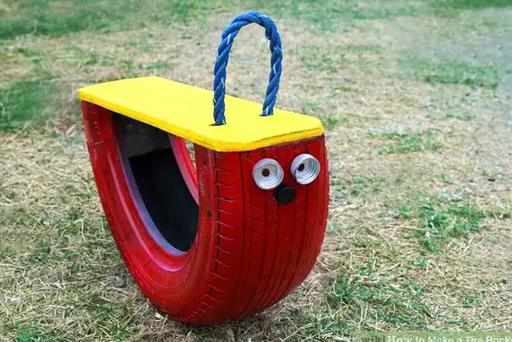 A tire rocker is a fun and comfortable way to repurpose an old tire, and it can be used as an outdoor seating option in your garden or patio. To create this tire rocker, use leftover supplies and objects from your thrift store collection. You will require a recycled tire, some plywood or scrap wood, a can of paint spray of your choosing, a strong rope, bolts, a screwdriver, and a power drill to complete this tire craft. Additionally, by hanging this rocker from a tree, you may use it to create a swing for your children.
16. Tire Raised Garden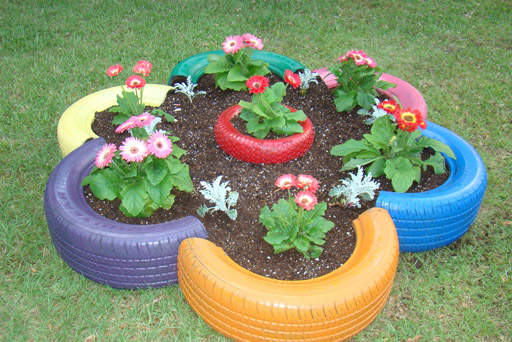 This recycled tire planter is a great choice for you if you enjoy growing plants, especially trees and flowers. Use a larger recycled tire, soil, a sharp knife, a jigsaw, landscape fabric, and paint spray to create this planter. Consider using a larger tire to easily grow more plants at the same plant. Additionally, these tire planters provide a hassle-free choice for seasonal gardening. It will be a wonderful idea to use old tires in the garden.
17. Frieda La Frog from Recycled Tires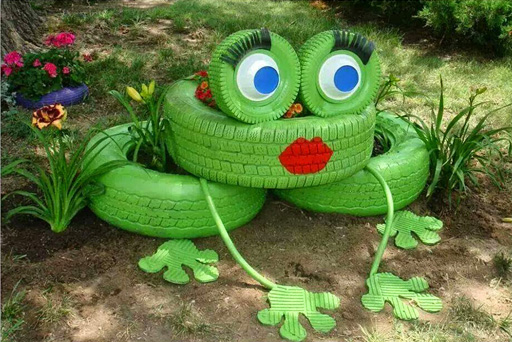 If you want to have a cute character to decorate your garden, consider using old tires! Create this Frieda La Frog painting using reused tires, which is quite cute and appealing. You'll need treated lumber, deck screws, galvanized nails, rubber doormat, recycled tires in various sizes, spray paint, brush paint, and paintbrushes to create this work of art. This artwork can be added to your backyard for children. With their buddies, they will undoubtedly experiment with this frog craft.
Creative Recycle Tires Ideas
Whether you are an environment enthusiast or DIY craft lover, you may be interested in creating a masterpiece from recycled old tires. Here are some creative recycle tires ideas to inspire you!
18. Tire Umbrella Stand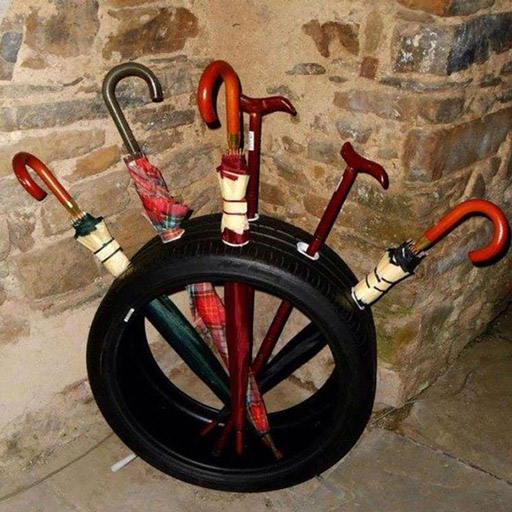 You may not think of a proper place to store your umbrella. In fact, you can make a beautiful umbrella stand from old tires! Simply use the drill to make a hole in the center of the tire that is slightly larger than the diameter of the metal pipe or rod. Paint the tire or add other decoration ideas as desired. Your tire umbrella stand is now ready to use! With this idea, you can create a functional and unique addition to your outdoor space.
19. Tire Subwoofer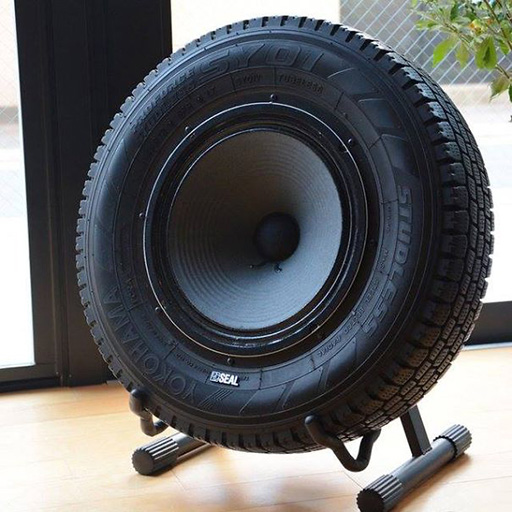 A subwoofer enables you to feel the sound, whereas bookshelves or floor-standing speakers only allow you to hear the bass. Well, why do you buy a new one while you can make it with old tires? The tire provides a unique aesthetic and the natural acoustics properties of the rubber can enhance the bass frequencies of the subwoofer driver. Moreover, it can be a creative tire art that attracts conversation starters in your house!
20. Planter Table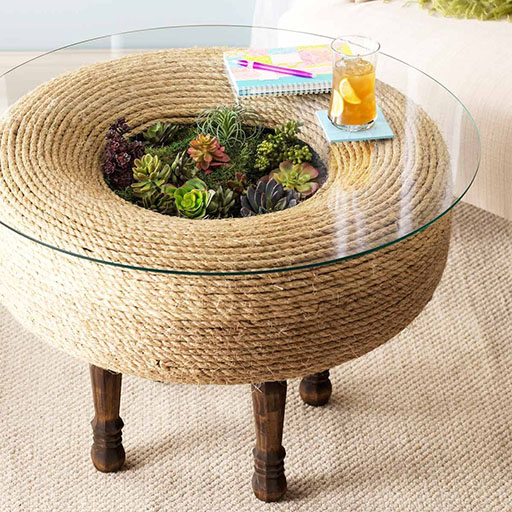 Are you trying to find a creative, quick recycling or transformation project? If so, you should make this tire table planter that serves two purposes. This table can be effectively constructed from a recycled tire. To complete this tire table planter, you can also use a glass tabletop, sisal rope, strong adhesive, oak wood, wooden legs, wood stain, a power drill, artificial plants, and painting supplies. For a simple decor upgrade, choosing succulent plants to put in this table planter would be a terrific ornamental alternative.
21. Recycled Tire Teeter Totter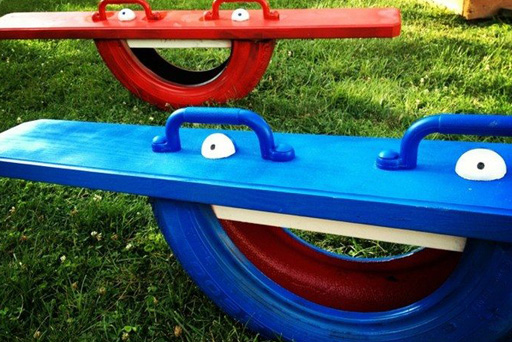 Use an old tire to create this very creative and colorful Teeter Totter. Use an old tire, plywood, pieces of wood, nuts, bolts, paint spray in various colors, washers, a power drill, and a screwdriver to construct it. This Teeter Totter activity is a great choice if you want to observe Earth Day and impart recycling knowledge to your children. You will undoubtedly enjoy working on this incredibly adorable craft project in addition to recycling!
22. Tire Sandbox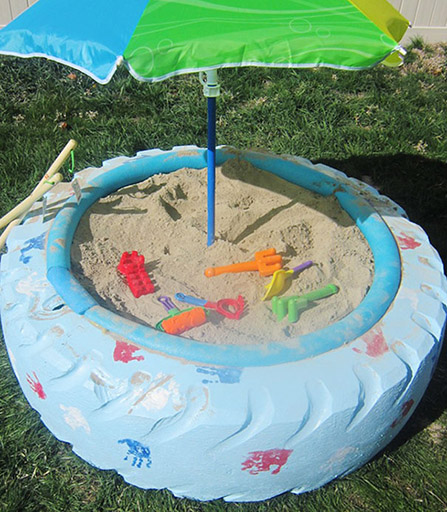 Children enjoy playing in the sand, particularly during the hot summer months. With this creative idea, your children are no longer required to visit parks to play in the sand pools. You may easily make this tire sandbox yourself using used tires. A recycled tire, sand, toys, a pool noodle, an old plastic sheet, saw, scissor, and plywood are all necessary components for this kid's sand pool. Well, making these poles takes very little time and effort, even for amateurs. But, we guarantee that the results will be rewarding for kids!
23. DIY Concrete Tire Piers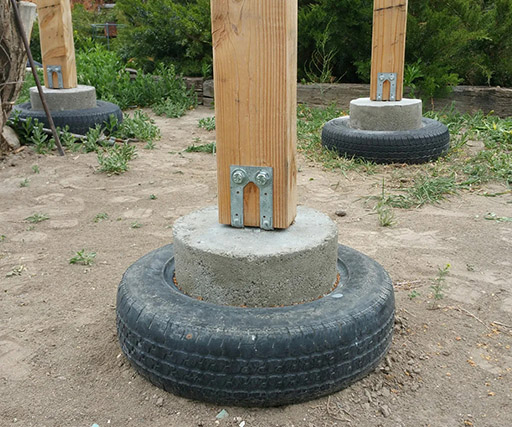 The tire pier is a simple but creative structure that can be made from recycled tires and concrete to support any object very well. Ideally, you may ground the badminton or volleyball nets for playgrounds using these tire piers. Additionally, you may utilize these tire crafts to support and cover your solar panels. You will need recycled tires, concrete mixture, wooden pieces, a scraper, a scissor, a level, measuring tape, duct tape, and metal anchor to create these tire piers.
24. Ladybug Planter Yard Art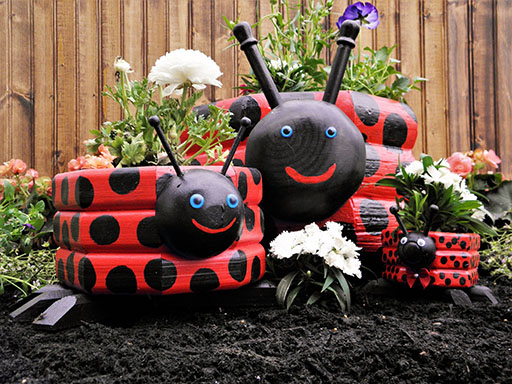 Who says garden decoration is expensive? These ladybug planters are the finest choice to take into consideration if you are looking for a creative idea for old tires. You will need recycled tires in various sizes, red and black paint spray, paintbrushes, fly swatters, wood screws, a few pieces of wood, gardening soils, and flowers of your choosing for planting in order to complete this ladybug art project for planters. Fortunately, they can be a creative and affordable garden decor option to your backyard.
25. DIY Rubber Tire Swing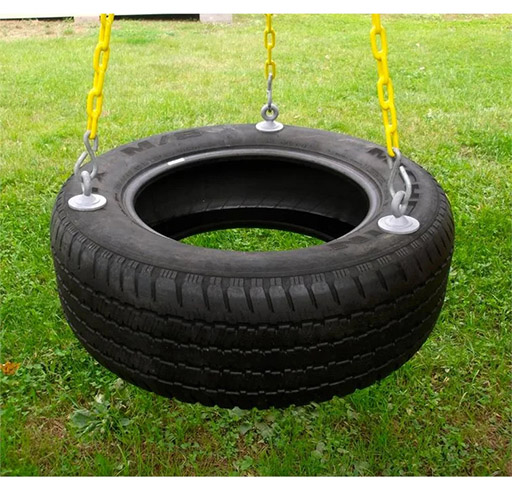 With a tire, you can make a gorgeous and incredibly entertaining swing for your kids in the backyard. You'll need an upcycled tire, white paint, an upholstery cushion, a sturdy rope, and hooks to suspend the swing from the ceiling to construct this swing. If you want to use this swing in your backyard garden, you should hang it from a tree. With a secure installation, elderly people should also be able to effortlessly sit or swing on this swing.
Final Thought
Recycling tires can be a creative and environmentally friendly way to repurpose old tires. From furniture and outdoor seating to garden beds and wall art, there are many ways to give tires new life. Additionally, it is always a good idea to keep safety in mind when working with tires, as they are heavy and can be difficult to handle. We hope this article can give you a lot of inspiration and insights to recycle your old tires!
FAQ (Frequently Asked Questions)
Are tires easily recyclable?
Yes, tires are recyclable. One of the materials that is recycled the most in the US are tires. Tires are often recycled into ground rubber, asphalt additives, and even gasoline when they are damaged or worn to the point where they are no longer fit for use on cars.
Are old tires safe for kids to play on?
No. Tires can be a potential source of exposure to chemicals and heavy metals that can be harmful to children's health. While it's generally okay to expose the underbelly of your automobile to a little amount of cadmium, you definitely don't want to let your kids play, run, and sweat all year long on it.
Additionally, tires can be a physical safety hazard if they are not properly secured or maintained, as they can be heavy and bulky, and children could get injured while playing on them.
Does recycling tires hurt the environment?
Recycling tires can have both positive and negative impacts on the environment. On the positive side, recycling tires can help to reduce the amount of waste that ends up in landfills, which can conserve space and reduce the amount of greenhouse gasses produced by decomposing tires.
On the negative side, recycling tires can also have some negative impacts on the environment. The process of recycling tires can produce emissions and pollution, especially if the tires are burned for fuel or if they are not properly cleaned and processed.
Is it OK to bury tires?
It is generally not recommended to bury tires as it can have negative environmental impacts. When tires are buried in the ground, they can take a long time to decompose, and in the meantime, they can leach chemicals and heavy metals into the soil and water, which can be harmful to plants, animals, and humans. Additionally, buried tires can also create a breeding ground for mosquitoes and other pests, which can have negative impacts on public health.
Burying tires is not an acceptable way of disposal in many places, as it is illegal in many jurisdictions. In most cases, tires should be properly recycled or disposed of through a licensed tire recycling facility.
Can you use old tires for the garden?
Yes, old tires can be used in the garden as raised beds or planters. This is because tires are made of rubber, which is a durable and long-lasting material that can withstand the elements. Additionally, tires retain moisture well, which can help to keep plants hydrated. However, it's important to note that tires should be cleaned thoroughly before being used in the garden, as they may contain toxic materials or pollutants.