Creating fashionable and stylish outfits from recycled clothes is a great way to express yourself while being environmentally conscious. Recycling clothes is an increasingly popular trend, allowing you to create one-of-a-kind looks with minimal effort and cost. With a little creativity, you can breathe new life into your old clothes and make them part of your wardrobe. From upcycling your old jeans to refashioning a dress into a top, the possibilities for creative DIY recycled clothing ideas are endless.
Ideas for recycling can be anything from reusing old clothing to upcycling and repurposing items to create something new. Not only is it good for the environment, but it can also provide creative and fashionable ways to wear your wardrobe.
With a few simple tips, you can make creative and sustainable fashion choices that help you look good while also helping the planet.
What Are Recycle Clothes?
Recycled clothing is a term used to describe the reuse of unwanted clothing items. It can refer to anything from vintage items to thrifted pieces to even clothing made from recycled materials. Recycled clothing is not only a sustainable way of dressing, but it can also be cost-effective and stylish.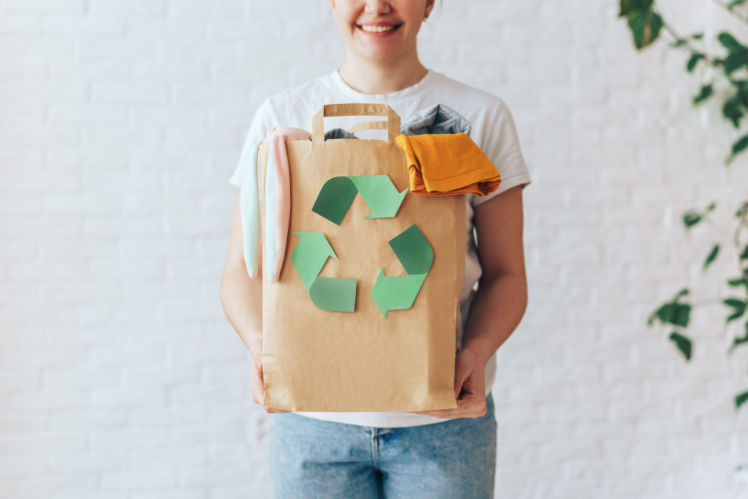 The concept of recycled clothing has become increasingly popular in recent years due to the environmental impact of the fashion industry. The fast fashion industry, which has been growing exponentially, is one of the biggest contributors to global pollution and waste. It's estimated that the fashion industry produces 1.2 billion tons of CO2 emissions annually, and the average consumer throws away over 70 pounds of clothing and textiles every year. Recycled clothing provides an alternative to buying new, which helps reduce the environmental impact of the fashion industry.
Ways In Which Clothing Can Be Recycled
Clothing is one of the largest and most important components of our everyday lives. It provides us with protection, expression, and comfort. Unfortunately, clothing is also one of the most wasteful industries with an estimated 85% of all clothing ending up in landfills each year. However, there are some ways in which clothing can be recycled or reused in order to reduce our environmental impact.
1. Donating Clothing
Donating your clothing to local charities, thrift stores, or second-hand shops is an excellent way to repurpose your unwanted clothing. This gives your clothing a second life and reduces the amount of clothing that ends up in landfills.
2. Upcycling
Upcycling is the process of taking an old piece of clothing and turning it into something new. This could be as simple as cutting up an old t-shirt to make a new one, or as complex as deconstructing an old dress and turning it into a skirt. Upcycling is a great way to give your old clothes a new lease of life.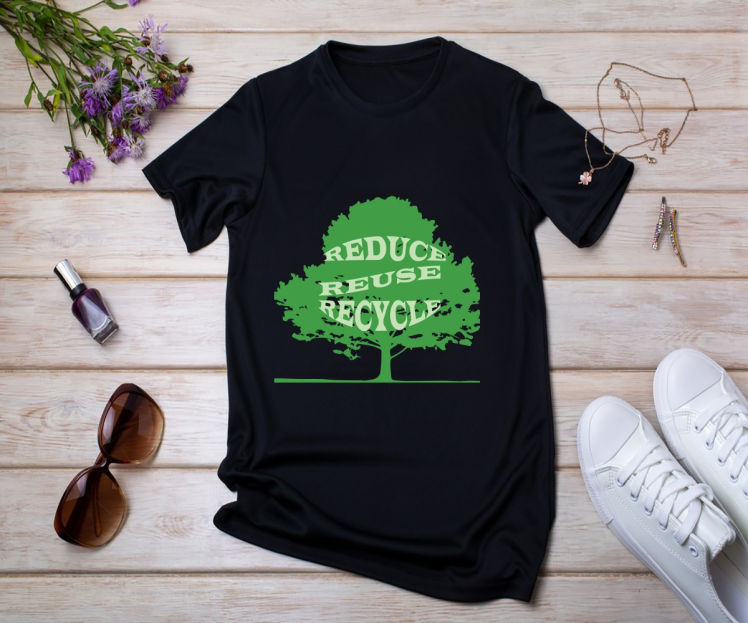 3. Reusing
Reusing clothing is another great way to reduce waste. If a piece of clothing is still in good condition, it can be given away to people. Or, you can sell your used clothing for cash at consignment stores, online classifieds, or thrift stores. This is a great way to make some money and also recycle your old clothing.
How To Make Money from Old Clothes?
Making money from old clothes is a great way to make some extra cash while also doing your part to reduce waste. It's also an easy way to declutter your closet without resorting to throwing away perfectly good garments. There are several ways to make money from old clothes, and each one is easy to do.
1. Sell Your Clothes Online
There are many online resale sites that allow you to list your unwanted clothes for sale. You can use platforms such as Poshmark, eBay, Threadflip, and Tradesy to make money from your old clothes. Be sure to take clear, quality photos of your items and provide detailed descriptions so buyers can get an accurate idea of what they're purchasing.
2. Have A Garage Sale
If you have a large amount of clothes to part with, a garage sale can be an effective way to make some money. Be sure to advertise in your local newspaper and on social media to get the word out. You can also consider partnering with other people who are having garage sales in your area to create a larger event.
3. Donate To A Local Charity or Thrift Store
If your clothes are still in good condition, you can donate them to a local charity, thrift store, or homeless shelter. Many charities and thrift stores accept donations of gently used clothes and resell them.
Recycle Clothes Ideas for Men
For men, there are many creative ways to recycle clothes and make them look stylish and contemporary. Whether it's upcycling old clothes into new pretty outfits or transforming a pair of jeans into a new pillowcase, there are plenty of ways to give your wardrobe a fresh look with recycled clothes. In this article, we'll discuss some of the best recycled clothes ideas for men.
1. Old T-shirt Tie-Dye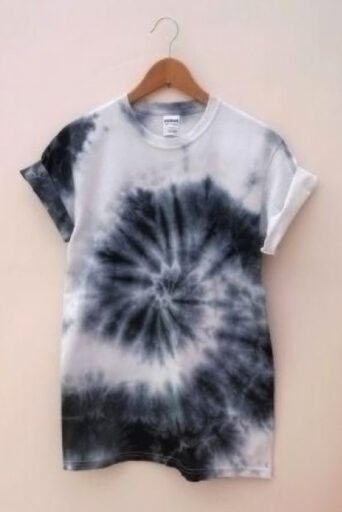 Are you looking for the best way to renew your old men's t-shirt? You won't believe what a spiral fold of an old t-shirt and a bleach tie-dye on the fabric can produce! Simply soak the folded tee for around 30 minutes in a solution of water and bleach. The colorful touch to your white t-shirt will make you have new DIY clothes without spending money!
2. DIY Refashioned Track Pants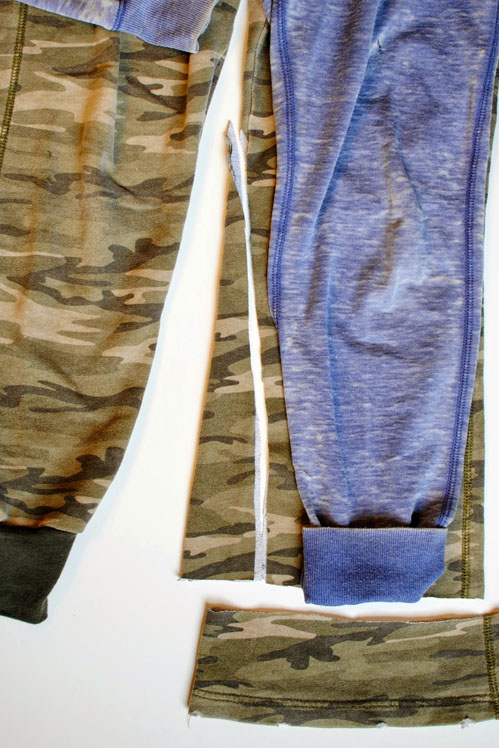 Have a pair of sweatpants that you no longer fit into but still swoon over? This is a common men's problem with their old pants. However, we've got you covered! You can turn the sweatpants with a simple touch. Grab a ribbon, and you can give them the much-needed length while also giving your outfit as a whole a lot more hipster appeal.
3. DIY Wool Blanket Coat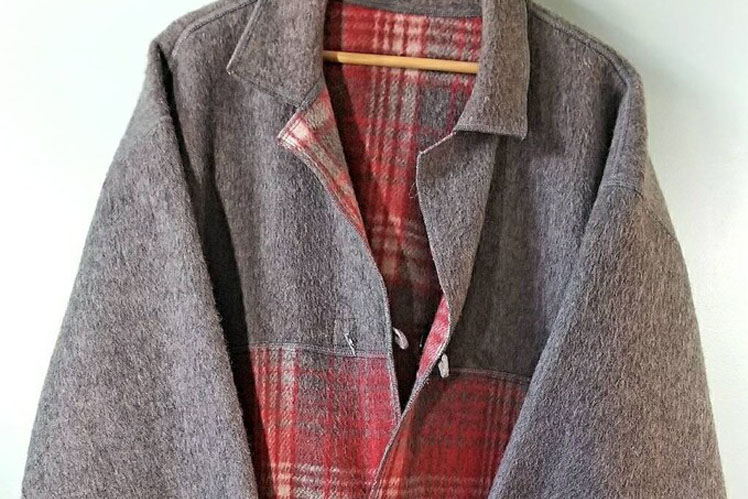 During the cold season, you may buy a new blanket. Therefore, what can you do with the old one? If you happen to buy a new blanket, why don't you remake a new fashionable coat from the old one? Take advantage of the old blanket by turning it into a more useful item. With a little cutting, folding, and stitching, that old blanket can be changed into a homemade coat that will keep you all toasty and cozy on those chilly days.
4. T-shirt Yarn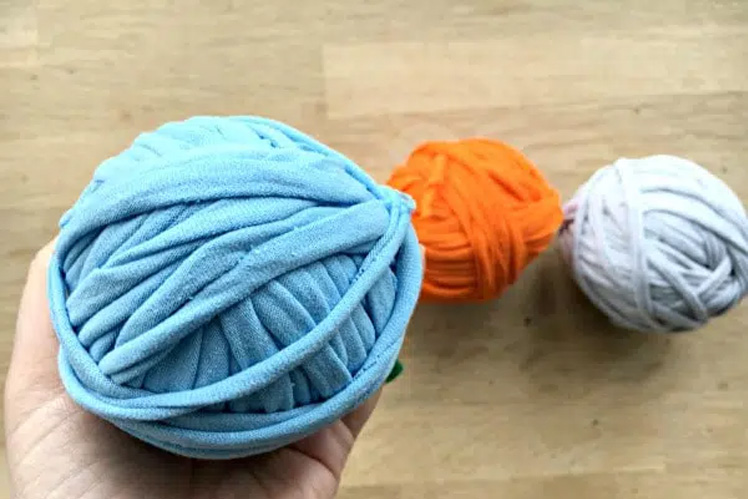 If you have an abundance of old men's t-shirts, you can turn them into warm yarn t-shirts. Start by cutting a tube-shaped piece of fabric from a t-shirt, adding slits up one side of the tube. Then, continue making a few diagonal cuts to the strips. After pulling the yarn taut, you have a handcrafted yarn ball. Later, the yarn can be used for a variety of home decor and other projects. It takes patience and care to get the best results!
5. Beach Pillow from Old Jeans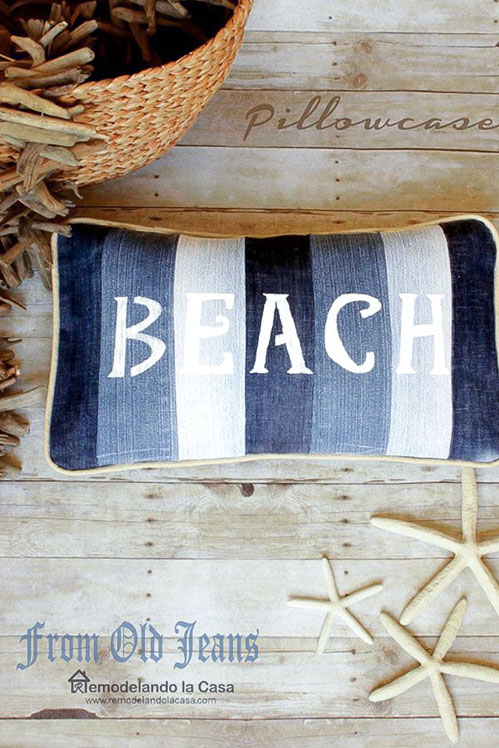 Repurposing old jeans into a beach pillow is a great upcycle clothes idea for men. With this one-of-a-kind beach cushion, your old worn out jeans with broken zippers or strange tears have a whole new purpose. It comes to life by letting your sewing machine get creative on strips and parts of those denims. Moreover, you can decorate the recycled old jeans pillow with fabric paint if desired.
6. Easy Dog Sweater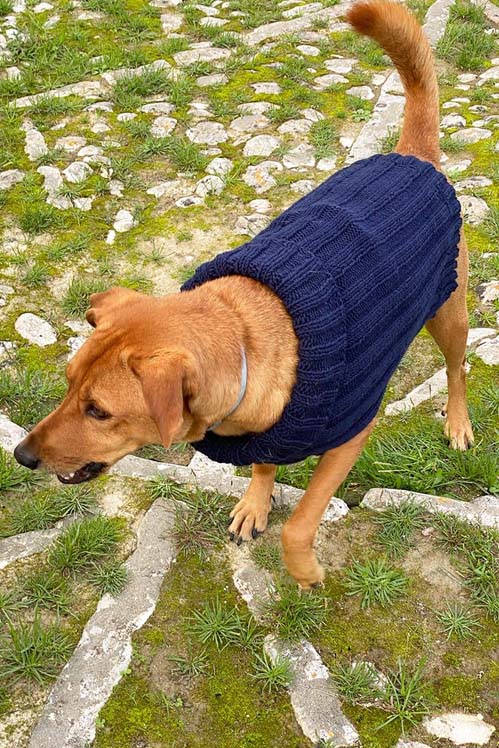 This is another simple but creative idea to turn your old pullovers for your dog. Your small furry pals need extra attention during the winter to keep them warm and comfy with appropriate clothing that covers their fur. By chopping off the sleeves of your old sweaters, you can easily make a sweater for your dog. Trim away the excess fabric around the neck and waist of the sweater. Hem the edges of the sweater with a sewing machine or by hand with a needle and thread.
7. Cozy Knitted Mug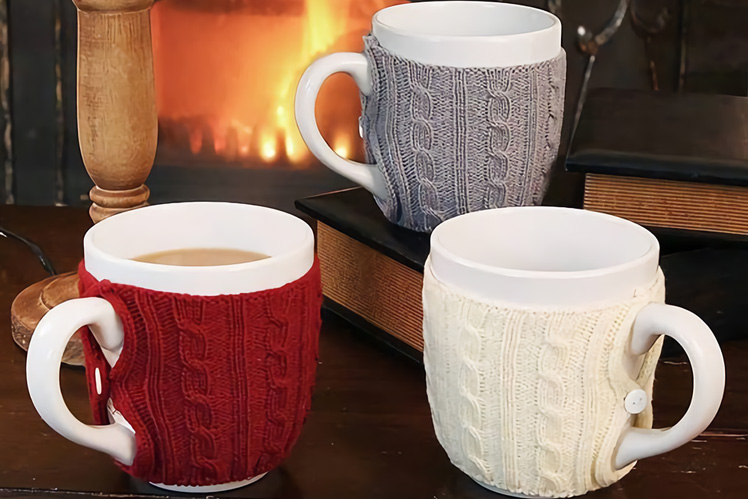 Do you only drink really hot coffee or tea in the morning? A heated mug cover that is wrapped around the cup will be beneficial for men. You can make the mug cover from an old sweater. Measure your mug and cut a piece of fabric from the sweater that is slightly larger than the circumference of your mug. Moreover, design it with buttons, helping you to keep the coffee warm for longer.
8. Braided T-Shirt Rug
This lovely rug was made out of used cotton t-shirts that were creatively braided together. Start by taking four strips and braid them together. You will want to begin by crossing the right strand over the middle strand. Then, you will cross the left strand over the middle strand. Continue this pattern until you reach the end.
Recycle Clothes Ideas for Women
There are many creative ways for women to recycle clothing, from upcycling and repurposing to making a restyle of old pieces. By getting creative with your wardrobe, you can create unique and fashionable looks while also doing your part to help the environment. Here are some recycled clothes ideas for women to inspire you.
9. DIY No-Sew Crop Top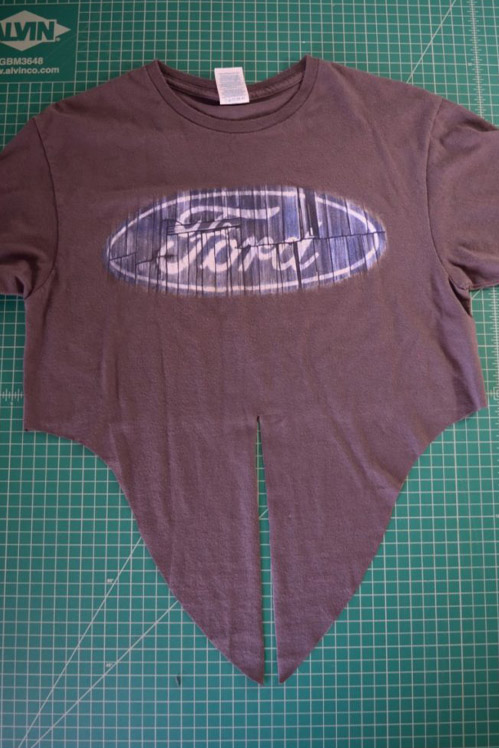 Crop tops are in style right now. And what could be more amazing than upcycling all those old tees you never wear into a plethora of vibrant crops with a charmingly sensual appeal? Measure the desired length of your crop top and mark the fabric with the ruler or measuring tape. Cut along the line with the scissors. Your fashionable crop top is ready!
10. Summer Dress from Men's Shirts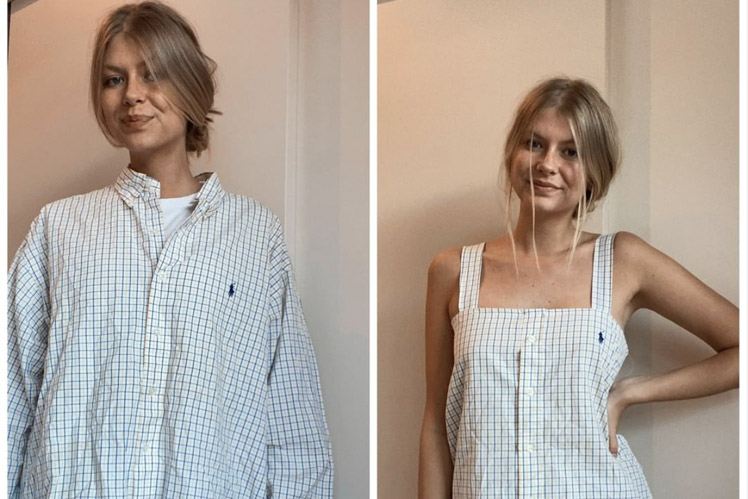 Did you know that you can transform a man's shirt into a stunning summer outfit? Cut two pieces of fabric for the skirt. The first should be the same length as the shirt, and the second should be twice as long. Sew together the top of one of your shirts with the top of a men's shirt that has already had a few inches removed from it.
Add buttons or other closures to the dress. Congratulations! You have now made a summer dress from a men's shirt.
11. Crochet Shirt from Clothes Yarn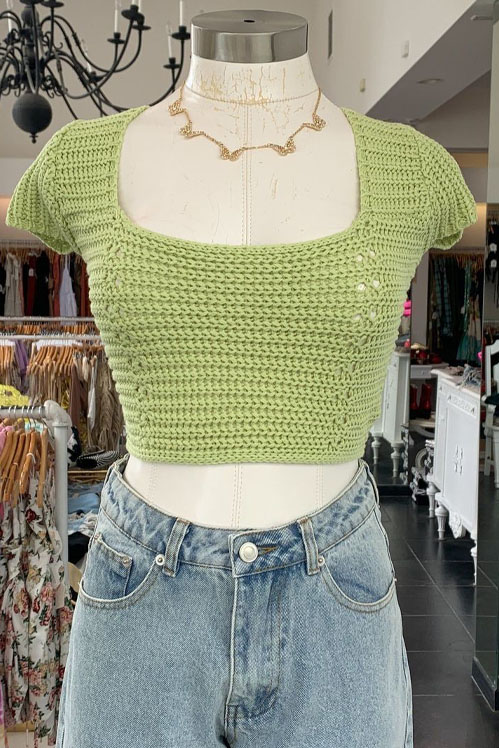 Who said those beautiful crocheted doilies were only meant to brighten up your furniture? You can use this idea to recycle clothes at home. In fact, you can put them to amazing use by integrating a few cut-outs of the gorgeous patterns into your simple old tee-shirts, tops and denims.. Turn your old clothes into cloth yarn and knit yourself some new crochet shirts. This is a creative way for recovering old clothes in style!
12. No Sew T-Shirt Tote Bag
A creative idea to get an eco-friendly tote bag, you can utilize your printed t-shirt to make one! Find an old t-shirt with cute print in your wardrobe to create a no sew t-shirt tote bag. You can easily turn those t-shirts with gorgeous prints into a handy, adorable tote bag that is also completely machine washable for less than ten dollars. It only requires a shirt, some scissors, and a washable marker.
13. Upcycled Sweater Beret
With this super-cool method of upcycling an old sweater, even the most inexperienced cloth crafters may create the classic upcycled fashion item, a beret. Simply cut off the bottom of the sweater, just below the armholes. This should be the same width as the circumference of your head. After that, sew the ends together to create a loop. Worthy of giving any store-bought hats out there a fierce battle!
14. Recycled Purse from Old Faux Fur Collar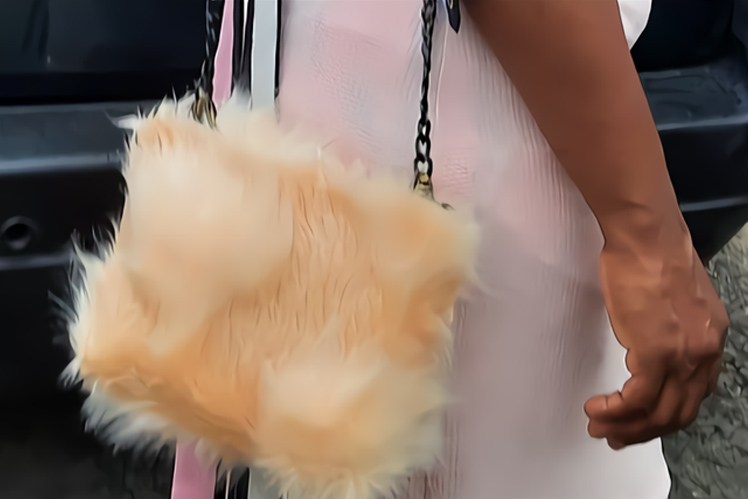 If being overly dramatic isn't your thing and you find yourself unable to wear those coats or sweaters with thick fur collars that are hanging in your closet, turn them into a lovely furry purse with a beaded handle to make a stylish fashion statement. Begin to cut the lining fabric to the same size as the rectangle. Sew two sides of the rectangle together, leaving the bottom open. Then, sew on a zipper to the top of the purse. Enjoy your new Old Faux Fur Collar purse!
15. Tank Top Bodysuit
An old tank top may be given new life and transformed into a stunning body suit with just a few cuts and folds, using your underwear as a model. You need a sewing machine, scissors, and pins. You can use a variety of fabrics for this project, from cotton to jersey to spandex. Sew the tank top and bodysuit pieces together. This is an easy way to get a new bodysuit from old tank tops.
16. Upcycled Plain Tee with Lace Material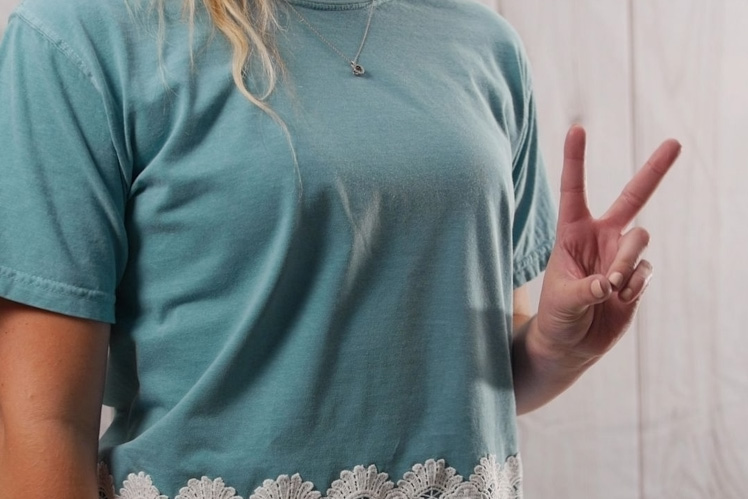 For those women who want to add cuteness in a plain tee, we've got you covered! Consider putting lace material on the side of the clothes. Even the most basic of clothing may seem very amazing with the addition of a strip of lace. And that's exactly what giving your worn-out t-shirts that seem to have lost all of their appeal a thick piece of lace for the edge does!
17. T-shirt Scarf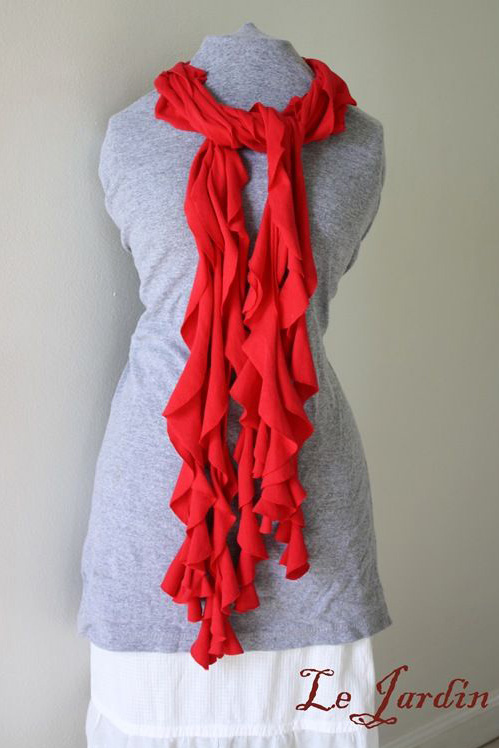 You don't need to buy a fashionable scarf to look awesome, because you can create a DIY scarf from your old t-shirt! Begin by choosing a T-shirt that has a fun design or pattern. You want to make sure it's soft and not too thick. Cut the bottom of the T-shirt off in a straight line. The length of your cut will determine the length of your scarf. Trim any extra fabric and you're done!
18. Wrap Skirt from Long-sleeve Shirt
Wrap skirt is a good fashion item to expose your body curve. In fact, you can also create a sexy wrap skirt from your long sleeve shirt! With this idea, you don't have to cut or sew your shirt. Simply wear the shirt on your waist as a skirt. Use the remaining sleeves to wrap your waist. You can also tie the sleeve or add pins to give a small accent, making it look fashionable.
19. Recycle Clothes Ideas for Children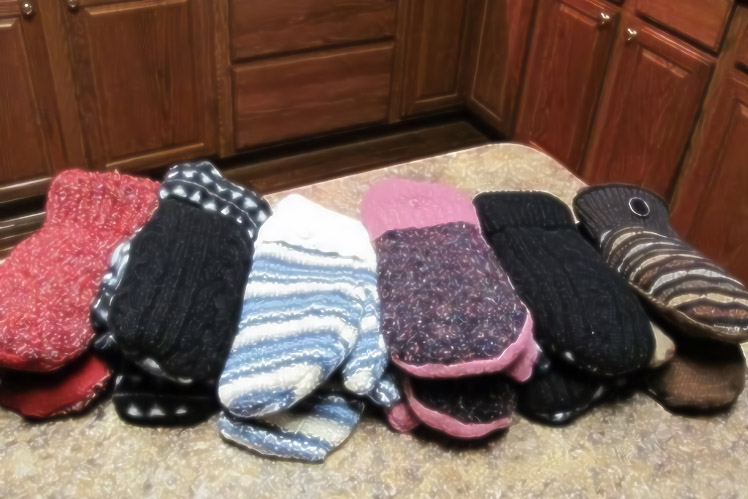 When it comes to dressing up your children, there is no better way to save money and be environmentally friendly than to recycle clothes. Recycle clothes ideas for children are an excellent way to give your little ones the look they want without breaking the bank. Let us give you inspiration of old clothes to recycle for children in the following points. Sweater to Mittens
You can call this idea "Smittens" since it is a clever transformation of a sweater into extremely adorable mittens. The warm, fleece-lined mittens require two matching pullovers, some easily accessible tools, and a few materials. Sew the mitten shape together using a straight stitch. Trim the excess fabric and then repeat the process for the other mitten. Let your children enjoy new DIY mittens!
20. Cardigan Cowl from an Old Sweater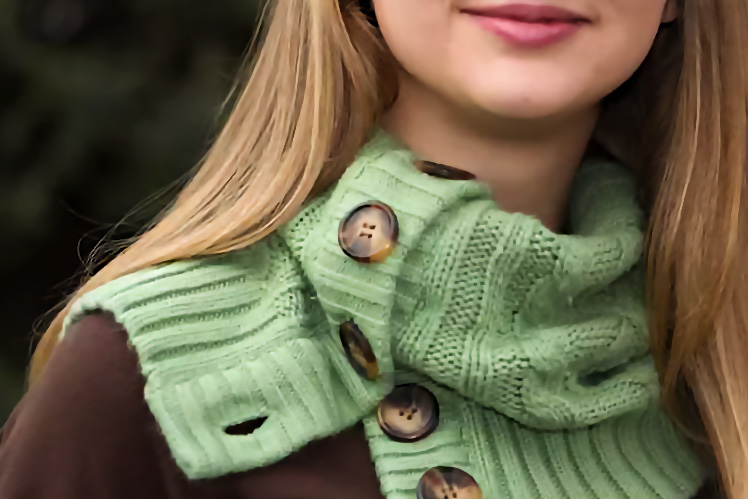 Give your children a new cardigan cowl to add warmth during the colder season. When it comes to hiding them behind a warm cardigan cowl or boot socks, old sweaters with those buttons down the middle might be a godsend. So, you can make a DIY cardigan cowl from an old sweater! Sharp scissors, a sewing machine, a needle, thread, and pins are items you'll need. Don't forget to try on the cowl and adjust the buttons to fit your desired length.
21. Recycled Sweater Bracelets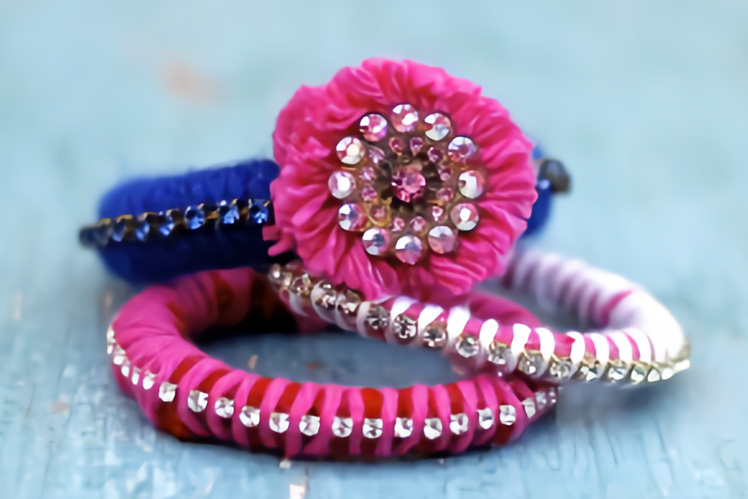 Did you know that you can also make cute accessories from old clothes for your children? Using vintage sweaters and bangle bracelets as the foundation, create beautiful bracelets embellished with gems and sparkle. Decorate the bracelet with any embellishments you desire. You can use vintage buttons, ribbons, or beads. It will surely make a unique and cherished present for your little ones!
22. Headbands Out of Shirts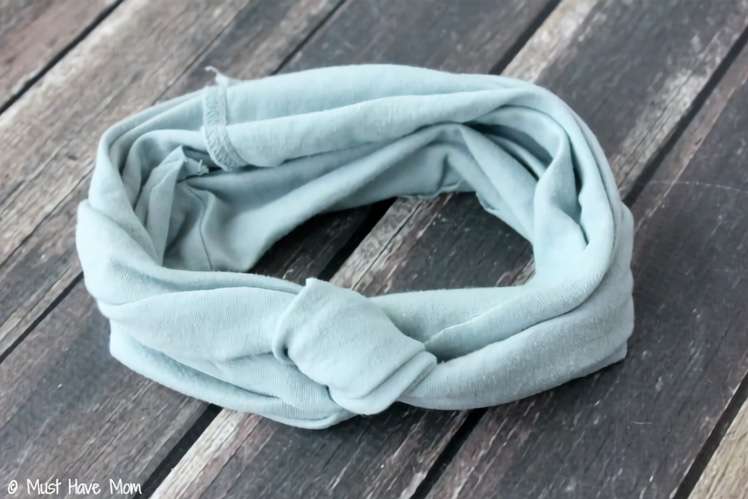 If you have an adorable little girl, you may want to adorn her with various headbands everyday! Therefore, why don't you create them on your own using recycled clothes? Cut off the bottom hem of the shirt, and then cut along the side seams to remove the front and back panels. Tie the two ends of the strip together to create a loop. Now you can embellish the headband in any way you like. You could add some beads or ribbons to give it a bit of sparkle.
23. Little Girl's Dress Use an Old Men's Shirt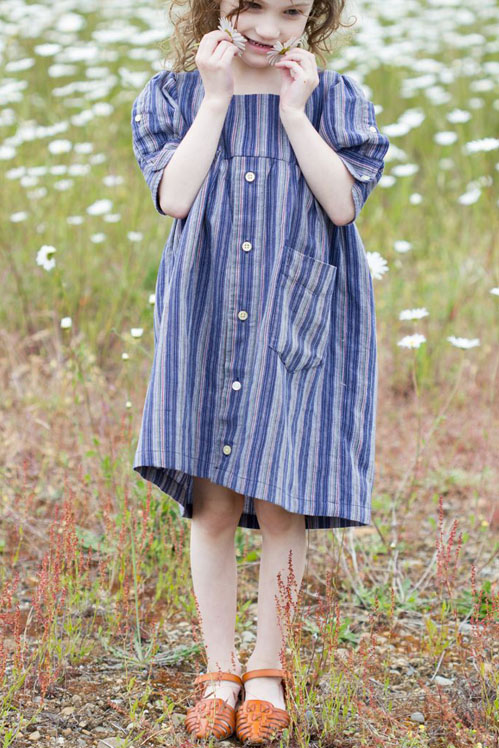 Men's shirts usually have a comfortable and high quality material. So, you can turn the old men's shirt into a cute dress for your little girl! Remember that you will need to measure her chest, waist, and length from the shoulder to the desired length of the dress. If you want to add buttons or zippers, measure them and sew them in place. As you hem the dress, your little girl's dress is done!
24. Pillowcase Romper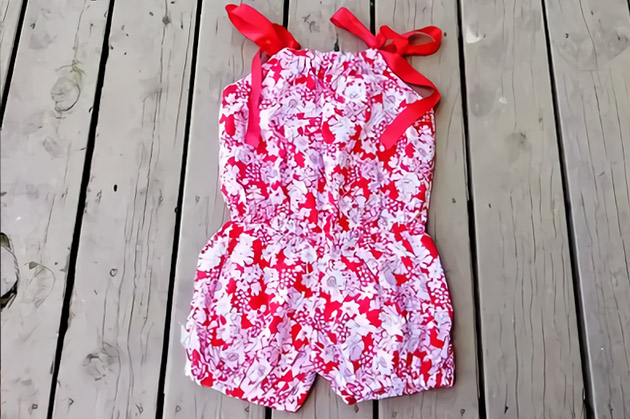 Create a lovely, cozy romper for your child from an old pillowcase. This is a quick and easy to recycle sew project for beginners to try. All you need is an old pillow case, scissors, and sewing kit. Make sure to get the right cut of two pieces of fabric. The first piece should be large enough to fit the chest and hips of the person wearing the romper. The second piece of fabric should be rectangular, with the length and width being twice the desired length of the finished romper.
25. Cute Pillow Toy from Old Baby Clothing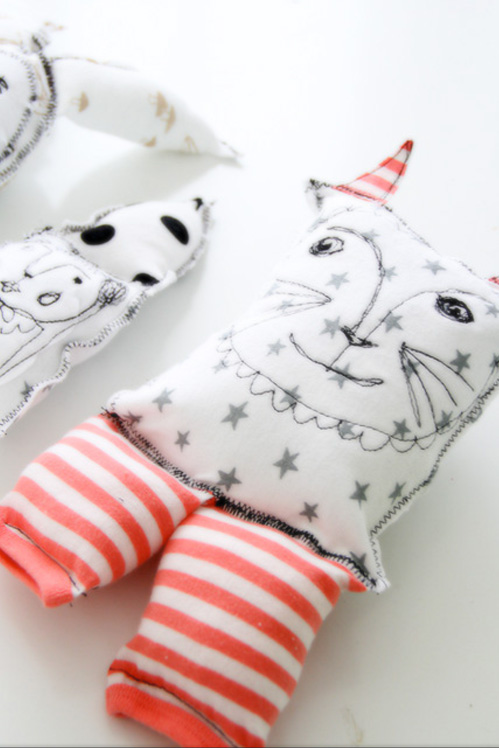 This is a creative way to repurpose old baby clothing to keep your little ones entertained! As you kids can't wear their baby clothes anymore, you create a pillow toy from them. Simply cute baby clothing in your desired shape. For example, you can create an animal or flower shaped pillow. Fill the pillow with dacron or soft cotton filling, then sew the edge neatly. Your cute pillow toy is done!
Final Thought
Recycling clothes is an excellent way to reduce waste and help the environment. It is also an easy way to save money and freshen up your wardrobe. By shopping for recycled clothes, you can find unique and stylish pieces that you won't find anywhere else. So why not give it a try and see how much fun it can be? With a little creativity, you can create unique, stylish looks from old clothing that you may have otherwise thrown away.
---
Latest Post:
---
FAQ (Frequently Asked Questions)
What clothing material is easiest to recycle?
Cotton is the easiest clothing material to recycle because it is a natural fiber that can be broken down and reused in a variety of ways. It can be turned into new clothing items, insulation, building materials, and even paper. Cotton is also biodegradable, meaning it can be broken down by microorganisms and returned to the earth.
What clothes can not be recycled?
Clothes that have been soiled by oil, paint, chemicals, or other hazardous materials cannot be recycled. These materials can be toxic and hazardous to the environment if not disposed of properly. If you are looking for recycle clothes ideas, please read the article above.
When Should You Throw Out Clothes?
It is generally recommended to throw out clothes that are worn, torn, stained, or are no longer in style. Clothes that are worn, torn, or stained may be uncomfortable to wear and can be at risk of harboring bacteria or other harmful particles. Wearing clothes that are out of style can also make you feel self-conscious and can make it difficult to find clothing that you like.
Is it better to recycle clothes or give to charity?
It depends on the condition and quality of the clothes. If the clothes are in good condition, it is better to give them to charity. This allows those in need to have access to clothing without having to purchase it. If the clothes are damaged or not in good shape, it is better to recycle them. This keeps them out of landfills and reduces the amount of waste in the environment.