Christmas is around the corner and you must be preparing delicious snacks for your wonderful guests. Perhaps you've just cleaned up your plastic bowls and trays to serve those lip-smacking delicacies. But if you know that you can spend an eco-friendly Christmas beforehand, would you ditch those harmful plastic products for eco-friendly alternatives?
There are a plethora of innovative environmentally friendly products available in the market. You can easily find wooden Christmas ornaments and handmade Christmas tree decorations to support the green Christmas campaign. They cater to a variety of needs and promise 100% efficiency similar to toxic plastic products. So, switching to eco-friendly products should be as easy as taking a walk in the park. Read on for more information on these exciting products.
How Much Waste Does Christmas Create?
December is approaching. It means that Christmas is coming! Christmas is a religious celebration generally celebrated by Catholics and Christians to commemorate the birthday of Jesus Christ. But now, this Christmas is also blended as part of the culture to welcome the new year.
Since the beginning of December, various preparations for Christmas celebrations have been seen in multiple countries. Furthermore, Christmas festivals and markets in the EU countries enlivened this joyful atmosphere. Many merchants sell Christmas trinkets, gift cards, colorful lights, ribbons, Christmas bulbs, and many more. In addition, various types of Christmas cakes, such as gingerbread, are scattered at the food stalls.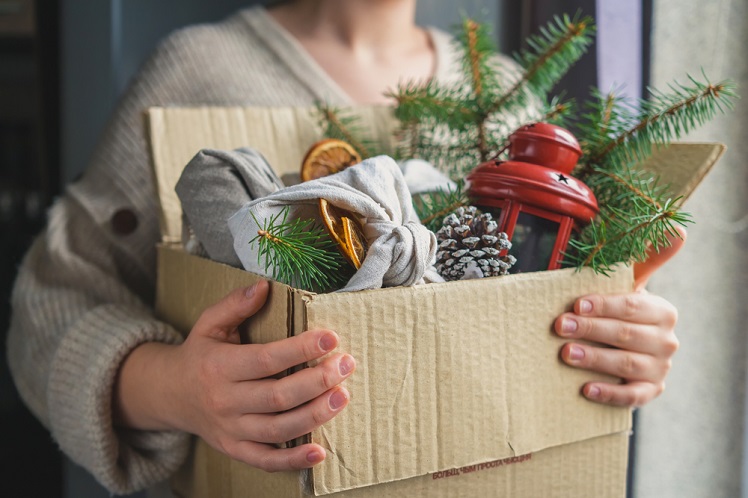 Meanwhile, Americans love to decorate their outdoor spaces with lamps, statues of Santa, and deer as the hallmarks of the season. Happiness is in the air!
In addition to all those cheerful vibes, having dinner with family and exchanging gifts should be included. This once-a-year tradition is an opportunity to share stories and blessings with the surroundings. Not only do children enjoy this time the most, but youngsters and adults also feel the joy very much.
Unfortunately, the warmth and bliss of Christmas are only a memory as December passes. And sadly, leaving a lot of new serious problems. According to the data, around 4.2 MILLION Christmas dinners are wasted in the U.K. The amount equals 740,000 slices of Christmas pudding, 263.00 turkeys, 7.5 million mince pies, 17.2 million Brussels sprouts, 11.9 million carrots, and 11.3 million roasted potatoes.
In addition to food waste, the Britains ditched around 125,000 tonnes of plastics and 227,000 tonnes of paper during this happiest festive time. Meanwhile, the total food waste in the EU was approximately 88 MILLION per year. How crazy!
Well, it does not end here. Other findings showed that Americans averagely buy 2.65 BILLION Christmas cards yearly, which will most likely be dumped in the bins after Christmas ends. Moreover, they also throw 25% more garbage from Thanksgiving to New Year's Eve, including Christmas. It accounts for 25 MILLION tonnes or is equal to 1 million per week. That's unbelievable! Of course, this awful trash burdens our earth, which is tired of carrying the impacts of climate change.
What Is An Eco-friendly Christmas?
While having so much fun celebrating Christmas, we should be more responsible. Hence, it's time to introduce eco-friendly Christmas. Basically, eco-friendly Christmas is a method or principle used to reduce waste generated during the season by shifting to reusable and sustainable products.
Not only putting concern on how many waste products are left during Christmas, but eco-friendly Christmas also covers food waste issues. It is immensely concerning due to the tradition of dinner held during Christmas celebrations, generally dumping food that is still edible.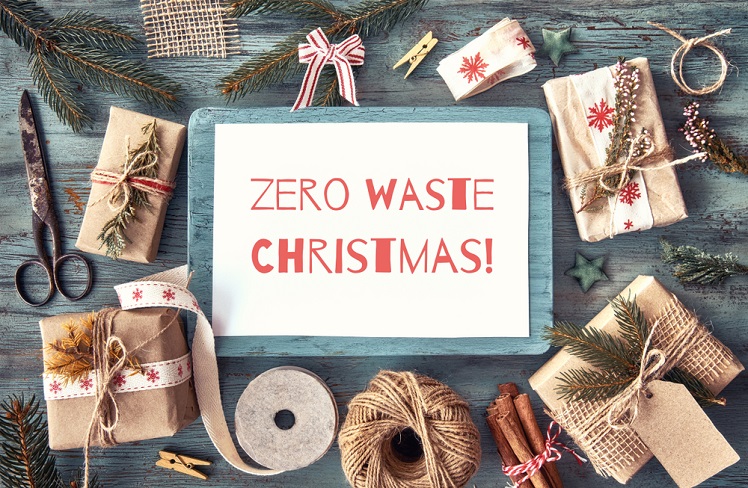 If you are wondering about the importance of an eco-friendly Christmas for our environment, let's discuss it based on the data. According to the United Nations of Environmental Protection (UNEP), about 9.2 BILLION plastics were produced from 1970 to 2017. Meanwhile, nearly 8 MILLION tonnes of plastics pollute our oceans per year. This number is predicted to increase every year along with the increase in the use of plastic.
Even worse, our mother earth will be covered in plastics by 2050, with the earth's temperature rising to 1.5°C (2.3°F). It will be followed by chaos in the world climate and increasingly massive global warming. This horrendous phenomenon will lead to severe issues, such as hunger, prolonged pandemics, droughts, natural disasters that are becoming more frequent, and many more.
Furthermore, food waste contributes to increasing the earth's temperature as well. Those that are disposed of in landfills will experience decay and eventually release methane. Methane is a greenhouse gas that can keep the heat in the atmosphere. Thus, it significantly contributes to global warming and climate change.
If we reduce food waste, we can lower 6-8% of the emissions. Based on these facts, we hope you understand that adopting eco-holidays can help protect our planet.
Christmas Eco-friendly Products and Decoration
If you are interested in eco-holiday ideas, there are some options you can choose from. Try to shift to sustainable goods. For those seeking bits of advice which the best nature-friendly products for Christmas gifts, here are a few groundbreaking ideas to make your Christmas eco-friendly:
1. PLA Straw
Your guests just had a sizzling hot lunch or dinner. They need to have a cool beverage. Hand over the innovative PLA straws to them along with the drink. When they ask you about these trendy straws, you can motivate them to opt for eco-friendly products and mitigate the effects of plastic pollution. We recommend PLA straws from KTOB as they are compostable. You can find them easily on amazon.
2. Single Wall Bagasse Paper Cup
Cantagreen brand has a single wall bagasse cup that can be an excellent alternative to your everyday coffee, plastic cup. It is another stylish yet eco-friendly alternative to the regular plastic cups. Serve the cool drinks in these cups and make this Christmas eco-friendly. Don't worry about the price, as they are affordable and won't rob money out of your pocket!
3. CPLA Spoon, Knife and Fork
Another product you should try to start your eco-friendly festive season is CPLA cutlery from Ecovita. This eco-friendly cutlery made from Crystallized Poly Lactic Acid (CPLA) promises to make your Christmas dinner look classy and elegant. So, you need not worry about replacing the toxic plastic products with these eco-friendly ones. Try these path-breaking alternatives and protect the planet.
4. Cornstarch-based Round Bowl
Have some delicious snacks to munch on? Use cornstarch products instead of the plastic bowls, and reduce the harmful impact of plastic on the environment. One of the brands that offer us such products is Ecolife. Thankfully, they are widely available for 24 hours, so you won't have trouble finding one for Christmas!
5. Cassava Griphole Bags
Are you heading over to a supermarket for Christmas shopping? Use cassava products from SavaBag to carry your purchases. Not only environmentally friendly, but also their bag designs are eye-catching with bright green color. When other customers enquire about this classy eco-friendly product, you can share its wonderful benefits and prompt them to switch to nature-friendly alternatives.
6. Paper Wraps for Gifts
You can replace plastics with the eco-friendly wrapping for the Christmas gifts you prepare. Although they are not as versatile as plastics, they now come in various shapes, designs, and colors, so you can be more playful. And most importantly, they are reusable and safe to dump into the bin. But don't forget to pick those that are recyclable. For example, paper wraps products from Hallmark that have been granted Climate pledge friendly.
7. DIY Christmas Decoration
Instead of purchasing the decorations, why don't you try to make them yourself? You can use leftover fruits, like citrus, to create stunning decor for your Christmas tree. First, cut them round. Then, dry them but make sure they still keep the golden, brownish-orange colors. Next, paste the small wires to hang them on the tree.
There are many more eco-friendly alternative products that you can avail for your daily use. Champion the cause of the dying Mother Nature by adopting these eco-friendly products and creating a sustainable future.
How To Celebrate A Green Christmas?
Shifting from the traditional Christmas celebration to eco-friendly Christmas is indeed challenging for beginners. But it will be worth it, knowing you contribute to saving the planet. You also practice shopping mindfully and be an environmentally responsible person. So, how to enjoy Christmas festive more earth-friendly?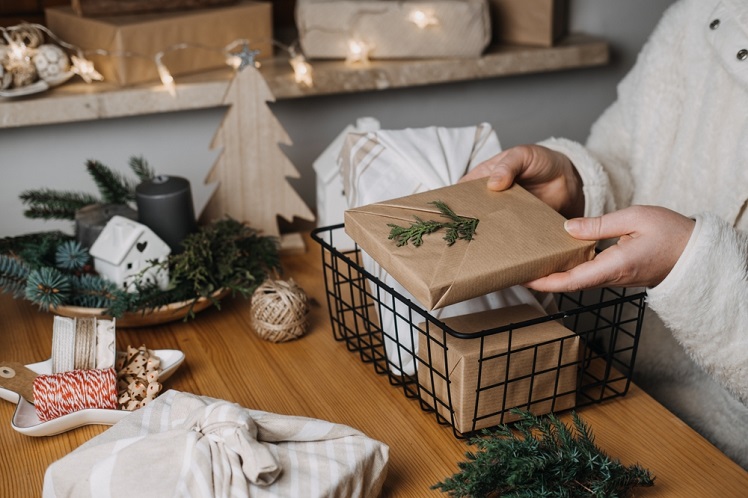 1. Buy Less
Have you read the data about food waste above, right? (If you still need to, scroll up!) All these foods end up in the bin because of our greed in buying or cooking without considering portions. Besides food waste, excessive use of plastic and paper is also a problem because those are the favorite materials to wrap Christmas gifts at Christmas. Especially if the presents are already in plastic packaging. So, it is way better to buy less than spend more, but we leave damage to our earth that cannot be reversed.
2. No Plastic Packaging
Plastics are toxic ingredients for the earth. Thus, seeking other options is wise. Instead of using plastic to pack the gifts, you can take advantage of old newspapers. Besides, they create unique patterns since no one can have the same wrap. You can choose brown cardboard or paper bags if you run out of newspaper. To make it less bland, spice it up with paintings. Make sure to choose non-toxic paint so it won't harm the environment.
3. A Life Christmas Tree Is Better
Perhaps, you think an artificial tree is better than a live one. But in fact, a real pine tree is the one that saves the environment. The trees are generally grown for Christmas. So, no worries about harming the planet. Besides, it produces less carbon emission than the fake tree. The data from the Carbon Trust organization reported that a 1.9-meter artificial tree costs 40 kg (88 lbs) of greenhouse gas emissions. In comparison, the pine tree only weighs 16 kg.
4. Try To Make DIY Decoration
Christmas decorations and gifts don't have to be bought out of stores. You can make it yourself at home by using reusable materials around your home. One thing you can try is to make Christmas tree knick-knacks from dried citrus tied with rope. In addition, use the old paper you have in your house to make origami, stars, and snowflakes to hang on the tree. If you have to use plastic decor, it's OK as long as you can find treatment facilities to recycle Christmas decorations.
How Can You Make Christmas Less Wasteful?
You can still celebrate Christmas with warmth, joy, and blessings while preserving the Earth. How to do it? Put extra effort into reducing waste. Here are some tips to try to cut your Christmas waste during the festive: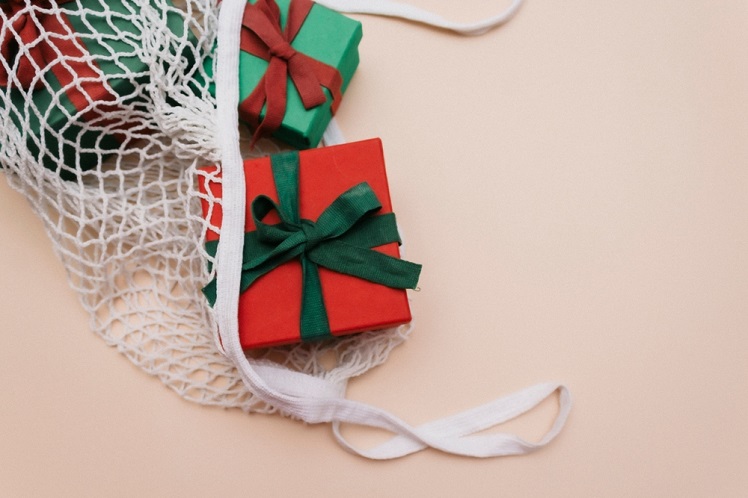 1. Meal Preparation
Many bring up the doubled plastic pollution after the Christmas celebration. However, few people talk about food waste. That's unfortunate, as the numbers are not small. The long-term effect is no less horrible (scroll up to see the facts!). So, what can we do to reduce it? Create a meal plan! Especially if you cook them for Christmas dinner. It can help you predict how many ingredients are needed and thus also save money! You can keep the leftovers in food containers and store them in the fridge. If you order from restaurants, avoid plastic cutlery as they are mostly single-use products.
2. Look for Outdoor Activities
Even though Christmas falls in winter, there is nothing wrong with you and your family celebrating outdoors. Instead of spending money on goods, give them a trip to go skiing together. It can significantly reduce the wraps commonly used to wrap gifts since you don't need them to cover yours. If your family loves adventure, hiking can be an option. But please check out the weather forecast to avoid storms!
3. LED Lights To Decor Your Home
Goods with excellent durability are one of the keys to reducing waste because they can last longer. One example is LED lights. Compared to other bulbs that can shine only for 1,000 hours, the LED lasts 100,000 hours! With that being said, the waste from LED lights will also be less. Besides, they consume less energy, thus slashing your electric bills. Hence, you can save them for several years for the upcoming Christmas.
Final Thoughts
Having environmentally friendly Christmas is possible as long as you are willing to be responsible to our earth. You can start by Replacing plastics to reusable materials, save your leftover meals, and consider changing your lights into LED. Besides being better for the environment, they also cut your bills! So, it is beneficial for both sides. If you are forced to include plastics, try to look for the ones that are less toxic (PP plastics). Also, find the nearest treatment facilities to recycle Christmas decoration waste.
---
Latest Post:
---
Frequently Asked Questions (FAQ)
How much pollution does Christmas cause?
Christmas is supposed to be the most beautiful time of the year. Well, that's maybe correct for us humans, but this celebration smothers our environment even more! In the U.S., around 2.65 BILLION Christmas cards are sold around the states. People also buy 38,000 miles of ribbon to wrap up Christmas gifts. That's A LOT to cover thousands of football fields. Meanwhile, about 300,000 tonnes of card packaging are wasted in the U.K. Not to mention the plastic packaging that accounted for 114,000 tonnes.
Is it more environmentally friendly to buy a fake or real Christmas tree?
Even though it seems bad for the planet, cutting down real Christmas trees is actually more environmentally friendly and considered a sustainable tree. It means that buying them also supports the green Christmas movement since the carbon footprint is less than the fake ones.
The data from the Carbon Trust organization reported that a 1.9-meter artificial tree costs 40 kg (88 lbs) of greenhouse gas emissions. How about the real ones? The carbon dioxide (CO2) emission will take around 16 kg. In addition, the Woodland Trust said that farmers commonly cut only one in ten pines to sell out at Christmas, and they are specifically cultivated for the season. So, it is less harmful to the forests.
How much plastic is wasted at Christmas?
While we celebrate the most joyful time of the year, our environment gains tonnes of additional plastic waste during the season. In the U.K., around 125,000 tonnes of plastics are sent to landfills. At the same time, Americans ditch 25 million tons of garbage from Thanksgiving to New Year festivals. The statistics are highly alarming since it is in such a short period.
Due to these horrible facts, the urge to have a sustainable Christmas is more prominent. You can change the plastic into a sustainable alternative; for example, replace plastic wraps with eco-friendly Christmas wrapping. Or moving on from plastic knick-knacks to eco-friendly Christmas decorations.
How can you decorate your Christmas without plastic?
Christmas knick-knacks are generally made of plastic. But those who want a sustainable Christmas can have more options for eco-friendly Christmas decoration today. One of the most popular is the wooden Christmas ornament. They offer a natural touch for your Christmas tree as they feature a brown color that is the hallmark of wood. In addition, you can take advantage of natural materials around you, such as driftwood, pine cones, rocks, and leaves. After that, make DIY Christmas alternatives, such as tree ornaments, key chains, to decorative succulent containers.
What activities can you do to have a green sustainable Christmas?
Shifting your common holiday to an eco Christmas is pretty easy. There are, in fact, tons of activities you can do while protecting the environment. Some of the most popular things are DIY sustainable Christmas tree decorations. You can start by choosing recycled materials, such as old newspapers or cardboard, to create extraordinary handmade snowflake decors to hang on the roof or the tree.
From the cardboard, you can also make a recycled, mini eco-friendly Christmas tree. And if you have used light bulbs, they will be great as a sustainable alternative to plastic decorations where you can transform them into a tiny cute snowman. Just prepare to craft glue and wires to create one.
Why is an eco-friendly Christmas good for the environment?
A report revealed that the Christmas celebration overflowed our earth with waste. In 2011, around 227,000 miles of wrapping paper and 125,000 tonnes of plastic packaging were thrown into the bin by U.K. citizens. Just so you know, one kilogram of paper production emits 3.5 kg of carbon dioxide (CO2) emissions.
Imagine there are a hundred thousand tonnes wasted! Knowing that the Christmas festive season leaves tonnes of plastic waste, having an eco Christmas is preferable as it is better for our environment. You can start by buying an eco-friendly Christmas tree (a real one!) and adorn it with sustainable Christmas tree decorations made from paper and reusable materials.