The rise in environmental awareness and concern for sustainability has led to a shift in consumer preferences for products that are kinder to the planet. One such product is biodegradable soap, a natural and eco-friendly alternative to traditional soaps. Biodegradable soaps are made from ingredients that are safe for the environment; are readily biodegradable; and are free of toxins and synthetic chemicals. With biodegradable soap, you can now enjoy an environmentally-friendly clean without sacrificing the results of a traditional soap.
Unlike traditional soaps, biodegradable soap does not contain harsh chemicals or toxins that can pollute the environment. It is also extremely gentle on the skin, leaving behind a pleasant scent and a feeling of freshness. If you want to be a responsible Ecomaniac with biodegradable soap, then you come to the right place!
In this article, we will explore the eco-friendly soap benefits and how they can help reduce the environmental impact of our daily cleaning routines.
Biodegradable Soap
Biodegradable soap is an environmentally friendly product that provides a sustainable solution to traditional soaps. Not only does this type of soap provide a safer and more natural alternative for people, but it also helps reduce waste that is produced and disposed of in our landfills.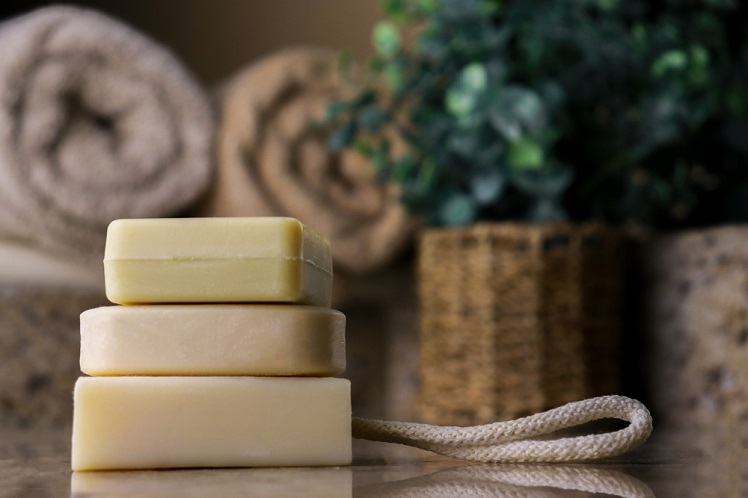 If you are interested in this eco-friendly product, let us explain more to give you a better understanding.
1. What Is A Biodegradable Soap?
Biodegradable soap is a type of soap that is made from plant-based ingredients. Unlike regular soaps, biodegradable soap ingredients are easily broken down in the environment. Moreover, biodegradable soap breaks down quickly into natural elements when it is exposed to air, sunlight, water, or microorganisms.
In addition, biodegradable soap is free of synthetic ingredients, petroleum, and phosphates, which makes it safer for the environment and other sensitive areas. On the other hand, regular soap contains petroleum-based ingredients, which are not biodegradable and can take hundreds of years to break down. Compared to the regular one, biodegradable soap is gentler on the environment and is a better option for those looking to reduce their environmental impact.
2. What Is Biodegradable Soap Made Of?
Biodegradable soap is typically made of ingredients found in nature such as vegetable oil, coconut oil, olive oil, or other plant-based oils. These plant-based oils are mixed with sodium hydroxide, or lye, to create a chemical reaction called saponification. This reaction produces glycerin, a natural byproduct of soap-making, and fatty acid salts, which are the soap.
Moreover, you can also add voluntary ingredients to your biodegradable body soap. Other natural ingredients, such as essential oils, herbs, or other natural additives can also be added to the soap to give it unique properties. As long as at least 90% of it breaks down into water, carbon dioxide and biological material within six months after disposal, it can be categorized as biodegradable soap.
3. What Type Of Soap Is Biodegradable?
There are many types of soap available, including bar soap, liquid soap, antibacterial soap, and body wash. However, not all of them are biodegradable. You have to check at the biodegradable soap ingredients and claim. Make sure if they can be categorized as biodegradable or not. Here are some types of biodegradable soap you can find in the market.
Natural or Organic Soap
Natural or organic hand soap excludes harsh chemicals like parabens, sulfates, phthalates, artificial scents, and synthetic colors in favor of natural components like essential oils. When it comes to killing germs through thorough hand washing, natural and organic soaps are just as efficient as conventional hand soap. It normally costs more than standard hand soap, but it's a nice compromise that organic soap contains no chemicals at all.
Chemical-Free Soap
On the market, the majority of hand soaps have a chemical detergent in their composition. Even "natural" hand soap typically contains a chemical detergent in addition to its natural constituents. Meanwhile, you can use oil and lye to create chemical-free claims, which is created with plant-based substances. If you have really sensitive skin, you might need to use plant-based and free from harmful chemicals soaps.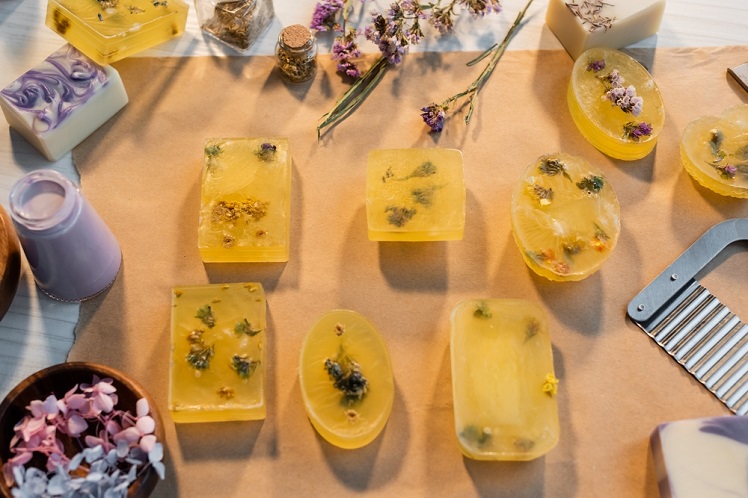 4. Why Should We Use Biodegradable Soap?
There's no reason to keep using regular soap today. The fact that biodegradable products are produced utilizing natural and biodegradable formulas makes them an affordable and sustainable soap. The following points below are a few of the main biodegradable soaps benefits you should know to raise environmental awareness.
Reduce Water Pollution
In regular soap, hazardous chemicals which come from soap surfactants can contaminate the water. When these detergents are present in high concentrations, they can limit water oxygenation, which can have an impact on aquatic life. Additionally, they change the chemical composition of water. By using biodegradable body soaps, you can help reduce the water pollution because their suds are less toxic and they don't include any chemical ingredients.
Gentle To Your Skin
Biodegradable soap is gentle to your skin because of using ingredients found in nature. So, we recommend you to try biodegradable soap for kids and adults with sensitive skin. Many natural soaps also contain phytonutrients, which nourish the skin and hair while assisting in the prevention of health issues. These phytonutrients include vitamins, proteins, and other bioactive substances.
Prevent Animal Cruelty
Animal testing for domestic goods like cosmetics is routinely advised by the U.S. Food and Drug Administration. Animals can be protected with eco-friendly items because the majority of these producers use ethical and cruelty-free practices. Natural goods typically don't need to be tested, but even if they were, the results would probably be negative.
How Do You Know If A Soap Is Biodegradable?
As an Ecomaniac who is looking for biodegradable soap, you have to be a smart buyer. Well, there are simple tips on how to check if the soap is biodegradable or not.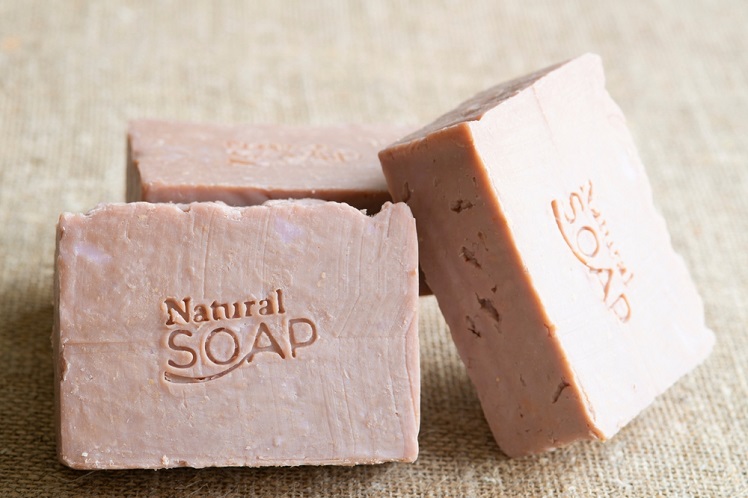 Here are easy ways to make sure you get the right eco-friendly product that you want. Let's jump to the list!
1. Check The Label and Ingredient List
Biodegradable soaps are labeled as such. Look for a label indicating that the soap is biodegradable, or check the ingredients list for biodegradable or plant-based ingredients. Additionally, biodegradable soaps will often be made with natural or organic ingredients.
2. Do Laboratory Test
In case the soap doesn't mention its claim or detailed ingredients, you can submit the product for a laboratorium test. Find a third party laboratorium to check their chemical composition and harmful chemicals. By doing this test, you get certainty about the soap formulation used.
3. Contact The Manufacturer
Suppose you are looking for a more affordable way to check if your soap is biodegradable or not, simply call the manufacturer. Ask the manufacturer if they have the soap's ingredient list and harmful chemicals test results. You also can ask them if they do animal testing during the product formulation.
How Do You Make Homemade Biodegradable Soaps?
Many commercial soaps on the market today contain perfumes, detergents, surfactants, and water conditioners that may have an adverse impact on the environment if they are dumped into a river or stream. However, it is possible to make natural soaps that are both very safe and biodegradable.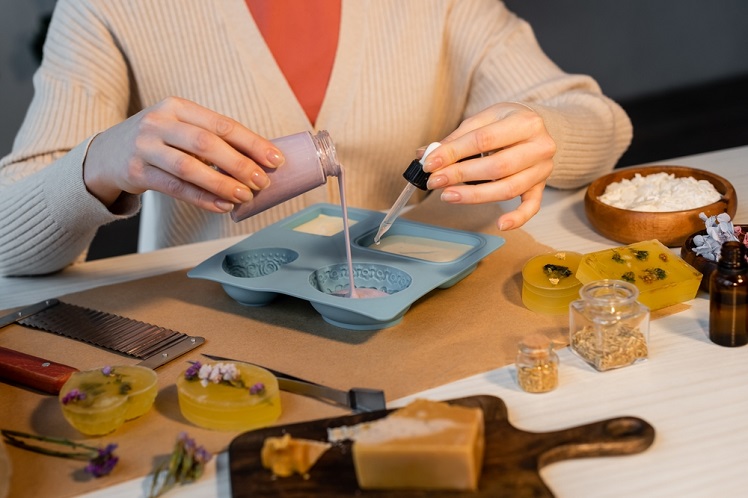 Here are simple steps on how to make homemade soaps!
1. Prepare The Basic Formulation
Start by gathering the necessary homemade soap ingredients such as:
1/4 cup of cold-pressed oil
1/2 cup of coconut oil
1/2 cup of lye (sodium hydroxide)
1/2 cup of water
1 tablespoon of essential oil (optional)
Due to environmental concerns surrounding palm-oil farming, try to steer clear of using it when making an environmentally friendly soap.
2. Mixing Process
Place the coconut oil and cold-pressed oil into a pan and heat on low until the oils are melted. In a separate bowl, mix the lye and water until completely dissolved. Slowly add the lye mixture to the melted oils and stir gently. Continue stirring until the mixture thickens and becomes a paste-like consistency. Add the essential oil, if desired, and stir to combine.
3. Molding Process
Pour the mixture into soap molds and allow to cool. When the soap has cooled, remove from the molds and store in a cool, dry place. Finally, enjoy your homemade biodegradable soap!
What Brands Of Soap Are Biodegradable?
Today, there are many soap brands that claim their products are biodegradable. If you are confused in choosing the best one, let us help you with top brands of soap that are biodegradable. Here are top 5 biodegradable soap brands we've gathered just for you!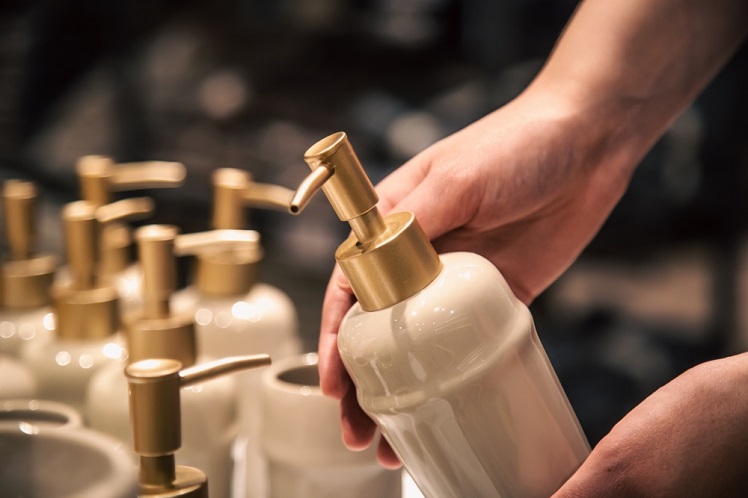 1. United By Blue
When it comes to the best natural soap bar brand, you can go with the United By Blue. Their soap bar product is manufactured with environmentally friendly soap ingredients like French green clay, organic saponified palm, coconut, and olive oils, as well as essential oils. The packaging is also 100 percent biodegradable. They also claim that a pound of trash is also retrieved from the seas and waterways for every product sold.
2. Dr. Bronner's
Dr. Bronner's is definitely the best biodegradable liquid soap brand you should buy. Their product is reasonably priced, completely biodegradable, and free of artificial preservatives, detergents, or foaming agents. Additionally, their liquid soap has a variety of uses. You may wash your hands, face, body, dishes, and clothes with Dr. Bronner's. You may even use it as toothpaste, shaving cream, and shampoo in a pinch. Additionally, the business uses only 100% recycled plastic in its packaging.
3. Ursa Major
This brand has a big concern for sustainable soaps. According to Ursa Major, they use at least 50% recycled plastic for packaging and generate 90% of the cartons they use in facilities that are carbon neutral, removing two plastic bottles for every bottle sold. Additionally, the natural components used to make Ursa Major soap include peppermint, honey, sea sennel, coconut, volcanic rock, and shea butter. These compounds are invigorating, exfoliating, moisturizing, and moisturizing.
4. Sea To Summit
The best biodegradable soap sheet brand for outdoor activities, Sea To Summit offers an eco-friendly way to clean yourself without harming the wildlife and plants. The soap sheet product is biodegradable, phosphate and paraben free. It is made of eco-friendly soap ingredients such as tapioca starch, glycerin, parfum, citronellol, and mineral oil. Simply open the bottle, remove a sheet, and moisten it to create a lather of soap. These soap sheets are useful for washing hands and dishes.
5. Kind Lather
Besides their eco-friendly soap, Kind Lather has a sustainable purpose for the environment. Kind Lather uses only environmentally friendly shipping materials and plants two trees for every product ordered. Made with plant-based ingredients, their product is very versatile. Their soap can be used for bathing, shaving and dish washing. Moreover, it features biodegradable formulas such as shea butter, coconut oil, red palm oil, aloe, and natural oat protein to nourish your skin.
Final Thought
Biodegradable soap has immense potential to reduce the amount of waste that is created by conventional soaps, and is an excellent choice for those looking to reduce their environmental impact. Its biodegradable properties make it safe for the environment, and its natural ingredients make it a healthy and eco-friendly alternative to traditional soaps. By choosing to switch to biodegradable soap, we hope you can enjoy the same quality of cleansing without the negative environmental effects of conventional soaps.
---
Latest Post:
---
FAQ (Frequently Asked Questions)
Is biodegradable soap safe for the environment?
Yes, biodegradable soap is safe for the environment. Biodegradable soaps are made from natural ingredients that can be decomposed by bacteria, fungi, and other microorganisms, so they don't pollute the environment. In addition, they are also free of harsh chemicals that can be harmful to the environment.
Is regular soap biodegradable?
Well, it depends on the ingredients. Certain soaps are biodegradable while others aren't. For instance, triclocarban and triclosan are components in store-bought soaps. These substances cannot be broken down by microorganisms and won't degrade naturally either. However, a soap is often deemed biodegradable if at least 90% of it decomposes within six months after disposal into water, carbon dioxide, and biological stuff.
Is olive oil soap biodegradable?
Yes, olive oil soap is biodegradable. Olive oil soap is completely biodegradable and kind to the environment because it only contains natural components. Therefore, it will be decomposed by bacteria naturally in the environment.
Is soft soap biodegradable?
Yes. Soft soap is biodegradable and is made up of potassium fatty acid salts. It is not regarded as a pollution because microbes can break it down easily. Natural oils and fats from a variety of sources can be used to make soap; sodium makes hard soap while potassium makes soft soap.