The Shangri-La Hotel, Qaryat Al Beri, Abu Dhabi boasts of Eco-friendly practices that pave a way for sustainable environment. By being an epitome of Environmental-friendly and biodegradable products, it inspires other restaurants in Emirates to adopt these practices.
It effectively contributes not only in reducing toxic plastic waste but also in keeping the Mother Earth clean! The eco-friendly products used at Shangri-La Hotel in Abu Dhabi are made from renewable resources such as Corn-starch, Sugarcane Bagasse and Cassava roots. These products do not harm are environment in their entire life-cycle, starting from its manufacturing, usage to its disposal. These products are completely petroleum-free, bio-degradable and compostable.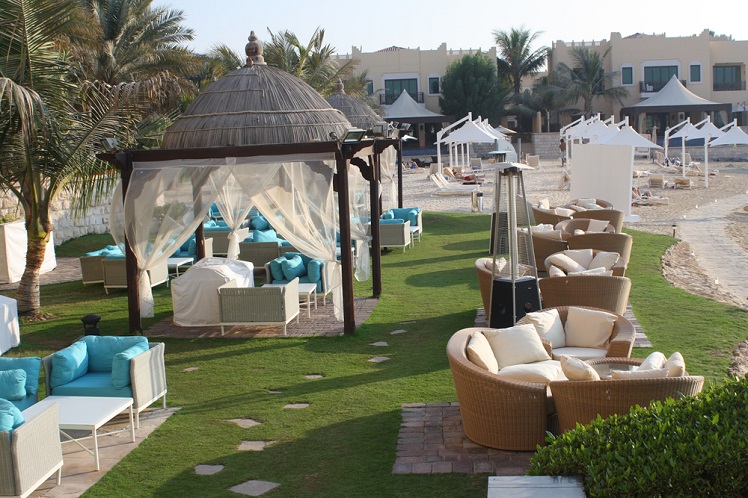 Apart from being a revolutionary Eco-friendly city resort, Shangri-La Hotel, Qaryat Al Beri, Abu Dhabi is well-known for its lavishness! 213 luxurious rooms and suites, 6 private villas, 7 world-class restaurants and bars, Infinity Pool, Private Beaches the list goes on!
Also acclaimed as the epitome of luxury, Shangri-La Hotel in Abu Dhabi ranks amongst the most ostentatious hotels of Emirates. This luxurious hotel is located along the 1 km long stretch of a private beach that overlooks the Abu Dhabi Strait.
Globally acclaimed for its world-class services, Shangri La Hotel has raised the bar of exclusivity and comfort. This beach-front five-star hotel boasts of the world-class services, the traditional Arabic Gondola Rides, the CHI – The Spa, outdoor pools and massage treatments.
Why Visit Shangri-La Hotel Qaryat Al Beri, Abu Dhabi
1. The Prime Location
Shangri La Hotel is located within the well-known Qaryat Al Beri Complex. This complex comprises of Shangri La Residence CHI – the Spa and the traditional market – the Souk.
The Abu Dhabi International Airport and Abu National Exhibition Centre is mere 13 minutes drive from the hotel. Other nearby places:
The Souq at Qaryat Al Beri is just 3 minutes walk.
Al Maqtaa Fort is mere 5 minutes drive.
The Sheikh Zayed Grand Mosque is situated at just 7 minutes drive away from Shangri – La Hotel, Qaryat Al Beri, Abu Dhabi
The well-known Salwa Zeidan Gallery and Baniyas Gallery is 8 minutes drive away.
2. Arabic-Inspired Rooms
Shangri-La Hotel counts amongst the top-notch luxury hotels in Abu Dhabi. It features 213 rooms and suites that display modern facilities and authentic Arabic flair. Each room features its balcony & terrace.
Latest Post:
3. Eateries
The Shangri-La Hotel in Abu Dhabi boasts of some of the outstanding restaurants in Abu Dhabi. It is distinguished for being home to 4 finest restaurants and 3 bars.
Shangri La's signature Chinese restaurant is known as Shang Palace that serves authentic Cantonese dishes such as BBQ Honey Chicken & whole roast Beijing Duck.
Lobby Lounge is well-known for being the finest place to cherish an afternoon coffee.
Hoi An (Vietnamese) & Bord Eua (French) top the list of the dining options, while Sofra Blvd is an all-day dining option for the visitors.
Shangri La Hotel, Qaryat Al Beri, Abu Dhabi certainly have something to offer to suit the palate of every visitor!