Compared to the health problems of other body parts, there are still many people who underestimate dental health. Little did they know that issues with the teeth can cause many health problems knowing that teeth are connected to various nerves in other organs. One way to maintain healthy teeth is to brush your teeth using toothpaste. While commercial toothpaste is reliable for maintaining oral health, some argue that the product contains chemical ingredients that will damage teeth in the long run. Thus, preferring herbal toothpaste to use. Hence, we'd love to discuss how to make natural toothpaste from organic ingredients.
These ingredients are widely available in the market. So, you don't have to bother finding one. Even though they come from natural sources, natural ingredients, such as coconut oil, baking soda, and aloe vera, are great for removing stains, preventing tooth decay, and preserving overall teeth health. Furthermore, these chemical-free toothpaste options are generally more affordable as you can make and use them for an extended period.
But before we get started into how to make natural toothpaste, let us broaden our knowledge about the negative impacts of not brushing your teeth regularly.
What Happens If You Don't Brush Your Teeth?
Many still underestimate dental health. They gave various reasons for skipping their teeth-brushing routine. Some simply lack motivation, while others argue they are so busy and thus find brushing their teeth as something to distract them from their hectic lifestyle.
Besides, some other people haven't had the habit of toothbrushing twice a day since they were little. Of course, these reasons cannot be justified. Just like other body organs, teeth also require extra attention to maintain their health. And brushing your teeth is the simplest way to maintain your oral health.
If this small habit is often ignored and becomes a habit in the long term, you may experience several health issues linked to your teeth, gums, and mouth. One of the most common problems is plaque buildup. This plaque contains bacteria that will accumulate on the surface of your teeth.
As time goes by, it will harden, causing bad breath and decaying your teeth. Teeth decay, or cavities, is another problem you encounter when not brushing your teeth regularly. If the problem is left untreated, it will lead to toothaches, swollen cheeks because of infection, and even tooth loss.
In addition to tooth cavities, plaque can also result in gum disease, causing redness, swelling, and bleeding gums. Even worse, poor oral health can also increase systemic health risks, such as diabetes, cardiovascular diseases, and respiratory infections.
What Ingredients Are Bad In Toothpaste?
Commercial toothpaste is generally safe to use and has been certified by the related authorities. Nonetheless, some people prefer chemical-free toothpaste options due to natural toothpaste benefits. Besides, they are concerned about the chemicals used in typical toothpaste products.
One of the most common chemical ingredients featured in such a product is Sodium Lauryl Sulfate (SLS). It is a surfactant that creates a foamy texture in your toothpaste. While some think foamy toothpaste cleans their teeth better, others are sensitive to SLS. They even experience irritation and dryness after using toothpaste with SLS.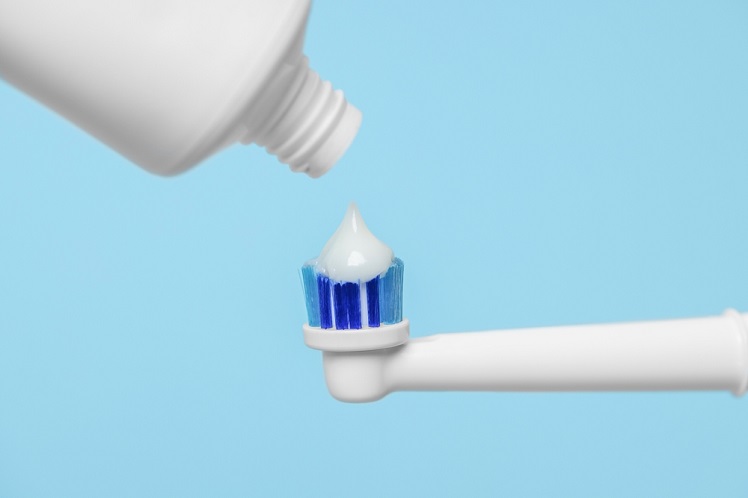 In addition to SLS, typical toothpaste also includes Triclosan and Fluoride. Triclosan works great as an antimicrobial agent to prevent cavities, reduce plaque, and improve tooth enamel. Nonetheless, Triclosan is potentially risky for our long-term health as the concern of bacterial resistance rises. Besides, this ingredient is also harmful to our environment as it is toxic to marine life. As for Fluoride, it triggers allergy and sensitivity to some but is generally safe.
Furthermore, ordinary toothpaste usually also features microbeads. These small plastic particles can improve your toothpaste's texture and color. However, it is not environmentally friendly as plastic material is not biodegradable and sustainable. You may also expect other materials like artificial colors, flavors, and sweeteners in toothpaste, which people prefer to avoid though they are safe to use.
How Do You Know If A Toothpaste Is Toxic?
Actually, all toothpaste on the market is safe to use. However, some of the materials used raise concerns because they pose a risk to your health and the environment, as you can read in the previous section.
For that reason, the first thing you have to check to make sure whether your toothpaste is safe or bad is by checking the ingredients. Try to review those that mark as toxic, such as triclosan, formaldehyde, and parabens. You can also check materials you are allergic to, such as fluoride.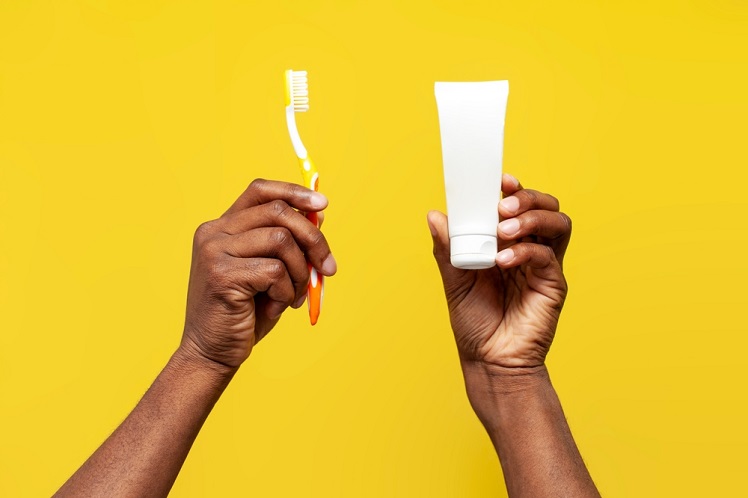 Apart from reading the ingredients, you also need to look for regulatory approval issued by reputable agencies or local authorities. For example, those toothpaste products labeled with FDA approval are considered safe to use and meet quality standards. You can also check on safety warnings to ensure that this product is made for your oral issues.
This is important because certain kinds of toothpaste contain ingredients that adults can use, such as fluoride. Kids who can't spit out the toothpaste are advised to use fluoride-free toothpaste. If you still need clarification about what toothpaste products you can use, consult your dentist to choose the one that matches your needs. Or, perhaps, find chemical-free toothpaste options and check tips on how to make natural toothpaste below.
Natural Toothpaste
Before we jump into how to make natural toothpaste recipes, we better learn the definition of natural toothpaste. Even though typical toothpaste is considered safe, some people choose DIY toothpaste for oral health. What makes healthy toothpaste at home the best choice? What is the difference between natural toothpaste and standard toothpaste in the market?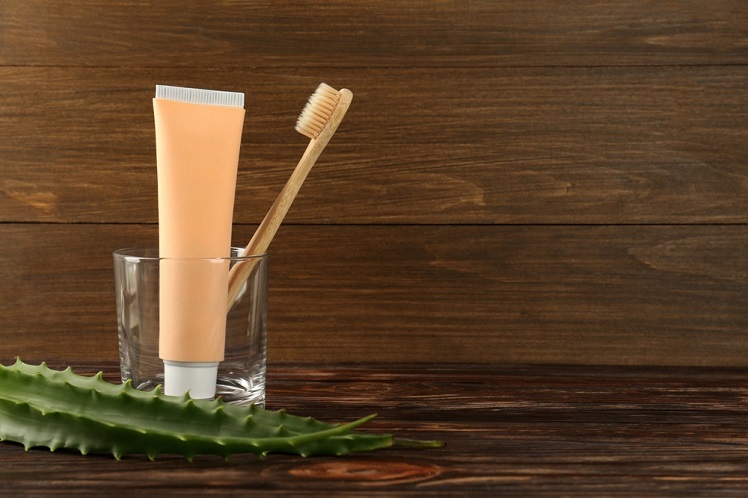 Let's find out in detail below!
1. What Is Natural Toothpaste?
As the name suggests, natural toothpaste is a dental care product whose ingredients are derived from natural sources. Some examples of organic ingredients in the toothpaste-making formula are minerals and plants. This product also generally avoids using synthetic chemicals potentially harmful to health and the environment, such as Triclosan, Parabens, and SLS.
Furthermore, natural toothpaste opts for organic materials as a substitute for the function of each of these chemicals. One typical example is using salt as an abrasive agent instead of fluoride. And instead of using artificial colorants and flavorings, you can add essential oils and plant-based sweeteners, like stevia, to feature in the herbal toothpaste formula.
These ingredients are also biodegradable and more sustainable, making them amazing healthy toothpaste at home and a great choice to protect the environment.
2. The Difference Between Natural Toothpaste and Regular Toothpaste
The main difference between regular and natural DIY toothpaste for oral health is its ingredients. As we briefly discussed before, natural toothpaste utilizes organic ingredients from plants and minerals to produce safe products for your oral health. Meanwhile, ordinary toothpaste tends to use chemicals, though safe, that may be harmful to certain people with sensitivities and allergies.
Examples of ingredients used to manufacture toothpaste are fluoride, SLS, synthetic colorants, additives, and flavorings. In addition, chemical toothpaste also uses abrasive ingredients that contribute to removing stains, including hydrogen peroxide. Although it works great to keep your teeth white, it can damage the natural tooth enamel.
Instead of using this chemical, natural toothpaste uses mild abrasive agents, such as activated charcoal and salt. Furthermore, natural toothpaste also opts for natural antibacterial ingredients from neem and tea tree oils. At the same time, triclosan is used in typical toothpaste. This triclosan can be potentially harmful to the environment and health. However, due to chemical ingredients, commercial toothpaste works better than natural ones to strengthen enamel.
3. What Are The Healthiest Toothpaste Ingredients?
Before you check the tips on how to make natural toothpaste, it will be better to understand what kind of ingredients will help you formulate the best DIY organic toothpaste for sensitive teeth or normal ones to maintain your oral health.
While commercial toothpaste does work great for protecting tooth enamel and preventing cavities, you can make a similar one whose effectiveness approaches the product. Instead of adding fluoride, consider baking soda, salt, or calcium carbonate as alternative ingredients. They feature natural whitening properties that also prevent plaque from building up on your teeth.
Those natural ingredients also help neutralize your acid mouth, which can trigger plaque and stains. Apart from these three ingredients, you can add natural essential oils, which are antimicrobial agents to prevent bad breath, gum disease, and tooth decay.
Moreover, they also contribute to giving a refreshing feel to your mouth. Some examples of these materials are coconut oil, neem oil, chamomile, aloe vera, peppermint, eucalyptus, clove, and spearmint. And last but not least, you can also add a natural sweetener, like xylitol, to reduce the unpleasant taste of other ingredients in the natural toothpaste formulation.
How Do You Make Simple Natural Toothpaste?
How to make natural toothpaste for your oral health? It's simple and easy! You only need to prepare the materials we discussed earlier and the tools to mix and store the final product.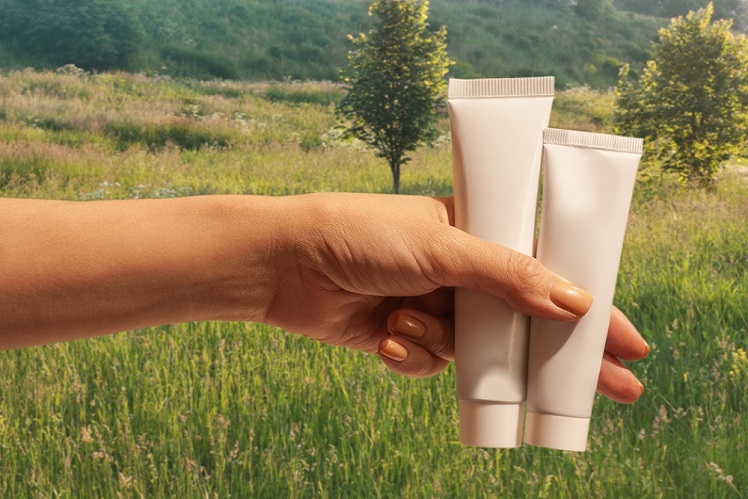 Here are step-by-step instructions for making DIY toothpaste for sensitive teeth and regular teeth.
Prepare all the ingredients and tools. You can use baking soda, coconut oil, essential oil, and natural sweeteners. For the tools, you can use a transparent glass bowl, a jar container or tube, a funnel, and a spoon.
Now, mix 4 tablespoons of baking soda and 2 tablespoons of coconut oil in the glass bowl. Baking soda is an alternative to fluoride, while coconut oil serves as an antimicrobial agent and moisturizing agent to maintain gum health.
Then, in the same bowl, add 10-15 drops of essential oil of your choice. You can choose spearmint, peppermint, chamomile, tea tree, or others. Stir them well.
Next, add 1-2 teaspoons of natural sweeteners. Opt for stevia or xylitol to reduce the gritty flavor of baking soda. Mix them evenly.
After that, transfer the product into a small jar or tube. If you prefer a tube, use a funnel to put the final product in so it doesn't spill out.
You can add or subtract essential oils and sweeteners based on your preferences. But make sure you are not allergic to certain essential oils before adding them to this basic recipe. If you prefer toothpaste without baking soda, try replacing it with calcium carbonate or salt. Furthermore, the use of this natural toothpaste is the same as the typical one. Add it on your toothbrush, then use it to brush your teeth. Remember to rinse your mouth and spit it out after brushing.
Best Natural Toothpaste Products
Suppose you need more time to follow step by step on how to make natural toothpaste because of your busy schedule. In that case, you can always opt for the best natural toothpaste products in the market. Apart from the fact that these products are handy, they ensure to match your preferences in opting for more sustainable options for toothpaste.
Below are curated natural toothpaste products you can buy at reasonable prices!
1. Tom's Of Maine Fluoride-Free Antiplaque and Whitening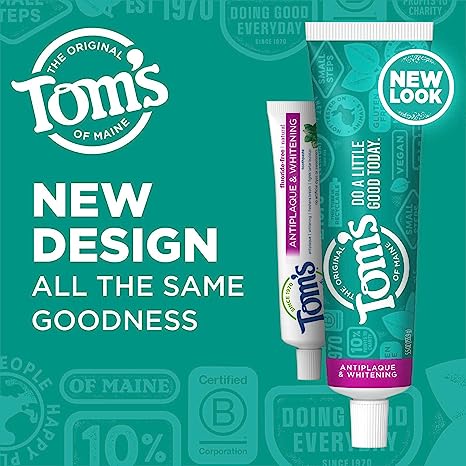 If you want to try natural toothpaste at a low price and get 2 items at once, this Tom's Of Maine Fluoride-Free Antiplaque and Whitening toothpaste is the answer. It helps you to prevent tartar (plaque) buildup, allowing you to smile wide confidently, despite having no fluoride in its formulation.
Apart from that, the flavoring also comes from peppermint, an essential oil that possesses antibacterial properties to prevent bad breath. It also gives a refreshing feel to your mouth, saying goodbye to bad breath. Amazingly, you will only spend $9.98 for 2 pieces!
Why We Love It
It comes with two pieces, which is great for value! Besides, it gets certified by a B corporation that ensures the product's safety and quality.
What To Consider
Though it is good for money, beginners may find the bundling too much, knowing they just want to test whether the formula suits their needs or not.
2. Burt's Bees Toothpaste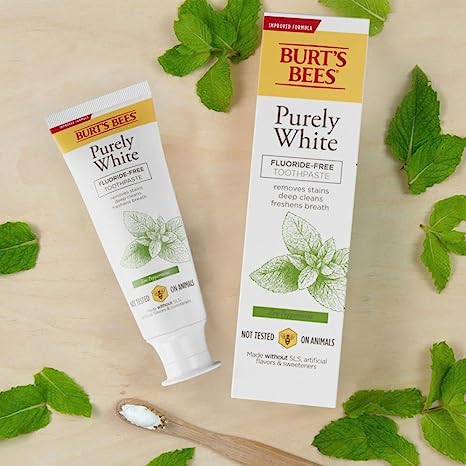 For those who are used to using natural toothpaste and want to opt for new products, Burt's Bee Toothpaste might be your alternative choice. It comes in three pieces bundling which allows you to save money, knowing it costs only $14.95!
Not only is the price cheap, but the effectiveness of the product is effective for maintaining oral health. Even though it is a fluoride-free toothpaste, it will remove stains, prevent plaque build-up, and keep your mouth refreshed all day, thanks to peppermint which is an antimicrobial agent in this product.
Why We Love It
The price is affordable for three products in one bundling. It also contains glycerin as a moisturizing agent which prevents the product from drying out even if it is stored for a long time.
What To Consider
Since it doesn't contain SLS, those who like foaming products may feel dissatisfied when brushing their teeth. But, it will be worth it for those who are sensitive to this chemical.
3. Boka Natural Toothpaste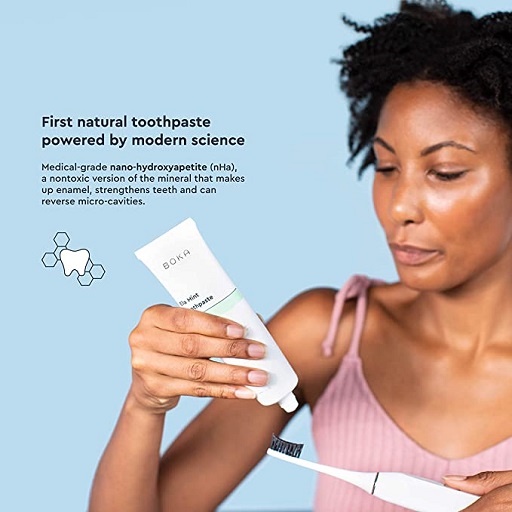 Even though natural toothpaste is safer to use than chemical one, not all of them are suitable for kids. This is due to essential oils and fluoride alternatives, which kids may be sensitive to. Hence, Boka Natural Toothpaste beats the odds by providing natural toothpaste, which is perfect for both adults' and children's oral care.
It features nano-hydroxyapatite, a safe ingredient for those sensitive to baking soda or other alternatives to fluoride. Not only that, but it also comes with several essential oil options that can match your preference. With $11.99, you will get 4 fl oz of the product.
Why We Love It
We love the fact that Boka Natural Toothpaste is suitable for kids and adults, making it a perfect product for traveling. Besides, its petite, 4-oz size allows you to easily pack it with other body care products.
What To Consider
You may find it a bit pricey from other natural toothpaste products which commonly cost under $10 for 4-oz toothpaste. Also, the mint flavor may be too strong for those with sensitive teeth.
4. Hello Activated Charcoal Toothpaste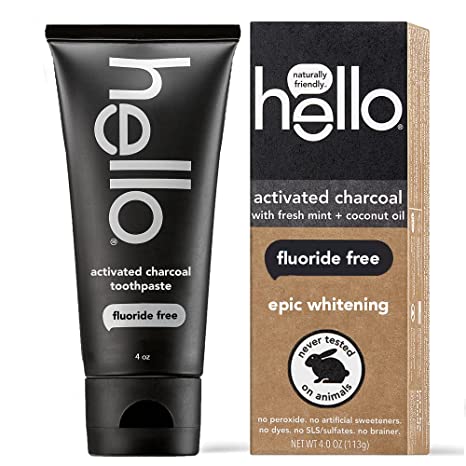 Are you a vegan looking for a natural toothpaste that matches your holistic principle? Hello Activated Charcoal Toothpaste is your best choice. It has no fluoride, SLS, gluten, and peroxide ingredients in its formulation, ensuring a safe product for those with such preferences.
However, even without fluoride, its activated charcoal works excellently to remove stains and plaque, thus keeping your teeth white. In addition, it has no flavors and sweeteners, a perfect one for those who prefer plain toothpaste. You can get this 4-oz product for only $5.97!
Why We Love It
It doesn't have sweeteners or flavorings which sometimes becomes a concern because it's too strong. Also, it has an affordable price for 4-oz toothpaste.
What To Consider
Some may be intimidated by the black charcoal. In addition, some find the original flavor unpleasant because there are no additional flavorings.
5. Lumineux Teeth Whitening Toothpaste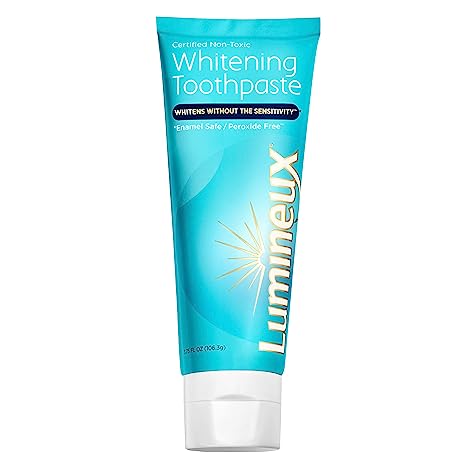 Finding products that are suitable for sensitive teeth is tricky. However, Lumineux Teeth Whitening Toothpaste can ensure your sensitive teeth will be happy and stay healthy. Even without peroxide and fluoride, it can whiten your teeth and remove stains by relying on herbal extracts from aloe vera, sage, lemon and coconut.
It also features dead sea salt to prevent plaque build-up and cavities. What's interesting about this natural toothpaste product is that it is clinically proven to keep beneficial microbiomes in your mouth to combat bad bacteria that cause oral issues. For a 3.75-oz product, you will spend $6.98!
Why We Love It
The company puts concerns on microbiome in your mouth by using natural ingredients that keep their existence abundant while eliminating the bad ones. This product is also great for sensitive teeth.
What To Consider
The price may be more expensive compared to other natural toothpaste products. But, it is worth it since the toothpaste has more features.
Final Thoughts
Taking care of your teeth is just as important as keeping the rest of your body healthy. One way that you can do besides checking up at the dentist every six months is to brush your teeth. Ideally, you should brush your teeth twice a day, namely in the morning after breakfast and at night before going to bed.
If you are sensitive to some of the ingredients in commercial toothpaste, you can try herbal toothpaste. There are several brands available in the market you can try. But you can also make it with the recipe we included above. DIY natural toothpaste also allows you to customize the flavoring, coloring, and consistency based on your needs.
---
Latest Posts:
---
FAQ (Frequently Asked Questions)
Is Homemade toothpaste good for your teeth?
Homemade toothpaste recipes are becoming increasingly popular as the sustainable lifestyle grows fast. This product includes natural ingredients in the toothpaste-making formula, which is considered a safe toothpaste alternative for sensitive teeth. Besides, you can easily customize the natural toothpaste ingredients to suit your personal needs and preferences. In addition, they are cost-effective as you can make the homemade toothpaste recipe with large portions, and you can save it for the long run.
Despite natural toothpaste benefits, homemade toothpaste may not work as great as typical toothpaste in the market. This is because natural toothpaste ingredients usually do not include fluoride, which is the key in the toothpaste-making formula. Fluoride is added as a cleaning and whitening agent for teeth. Moreover, safety concerns are also something that needs to be considered when making herbal toothpaste.
Make sure you use herbal toothpaste ingredients that have been labeled safe by the relevant authorities.
Why add salt to homemade toothpaste?
Knowing the herbal toothpaste ingredients are fluoride-free, you need to include other ingredients for your homemade organic toothpaste recipe. One thing you can try is salt. It has abrasive properties that contribute to removing plaque and stains from your teeth. Salt is also a natural antibacterial that eliminates the risks of bad breath and gym infections due to bacterial infections.
In addition, including salt in the organic toothpaste recipe helps maintain your overall oral health, thanks to the mineral contents, such as potassium, calcium, and magnesium.
Is baking soda toothpaste safe?
Baking soda toothpaste is safe to use for your teeth. Like salt, it is an abrasive ingredient that removes stains and plaque from your teeth. And since it is an alkaline ingredient, baking soda increases your mouth's mouth's pH level.
However, baking soda toothpaste doesn't contain fluoride, which helps strengthen tooth enamel, prevent cavities, and keep white teeth. In addition, baking soda is less effective for sensitive teeth since some experience increased sensitivity.
Can you brush your teeth with just baking soda?
Yes! Baking soda is safe for your teeth, and thus, you can use it. However, it is mildly abrasive. Hence, using them excessively as your regular teeth care is not recommended as this ingredient can potentially damage your tooth enamel.
Moreover, baking soda has no fluoride, crucial in strengthening enamel and preventing tooth cavities. As for the taste, you may find baking soda is gritty or unpleasant. Instead of using baking soda as safe toothpaste alternatives, you better consult your dentist about your conditions to get proper recommendations.